The Samsung Galaxy Note 7 is an Android smartphone that was released in August 2016 as a successor to the Galaxy Note 5. The Galaxy Note 7 is the sixth main device in the Galaxy Note series, however, Samsung branded it as "7" so that consumers would not perceive it as being inferior to the flagship Samsung Galaxy S7.
The Galaxy Note 7 is an evolution of the Galaxy Note 5 that inherited hardware components and improvements from the Galaxy S7, including the restoration of expandable storage and IP68 water resistance, and new features such as a dual-sided curved display, improvements to the bundled stylus, and new software features that utilize it as an iris-recognition system and a USB Type-C port.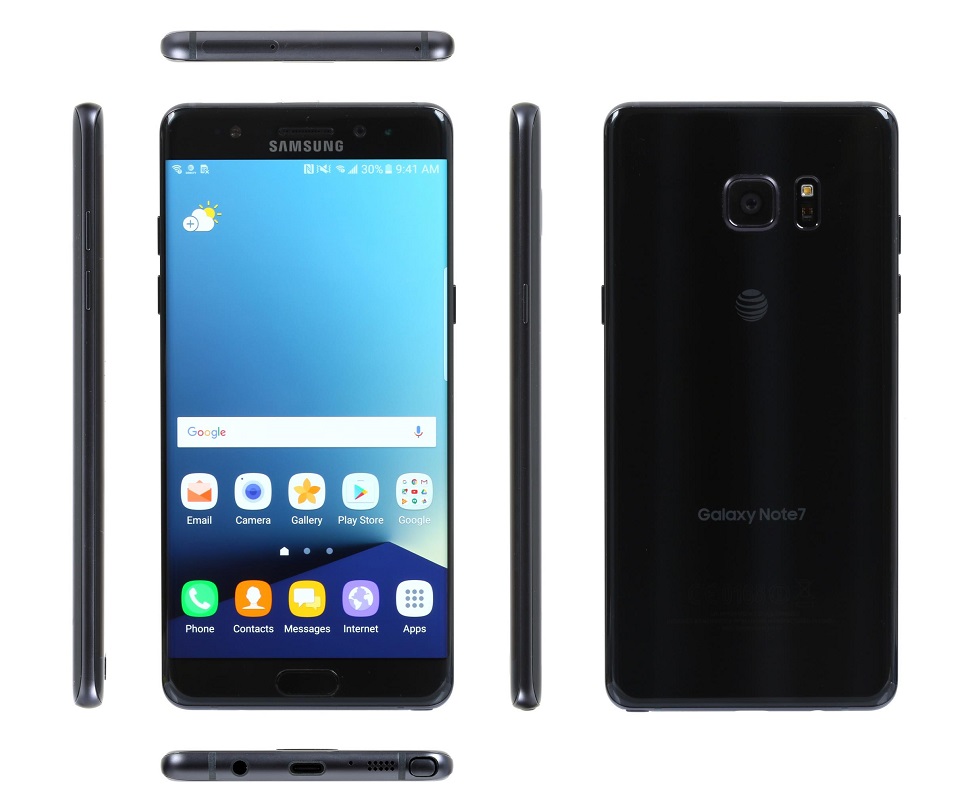 On October 10, 2016, Samsung decided to stop sales and shipments of Galaxy Note 7 devices as part of its commitment to customer safety. The company sent a notice to users asking them to back up their data and switch off their devices, after fire incidents had occurred.
Summary points:
5.67" touch smartphone with stylus/digitizer
Qualcomm MSM8996 Processor 64GB NAND 4GB LPDDR4
12MP OIS Primary Camera Android v6.0.1
(Marshmallow)
Target market: General Consumer
Released: Q3 2016
Pricing: $879.99 USD
Availability: Global
Total cost (direct materials and manufacturing): $301.33
Major Components:
5.67" Diagonal, AMOLED, LTPS, 2560 x 1440, On Cell Touch (Y-OCTA), Flexible Display, Pentile Matrix, w/Digitizer PCB & Shielding Film – MFG: SAMSUNG DISPLAY CO. LTD – MPN: AMB567MK01
Apps/Baseband Processor, Multi-Mode, Multi-Band, Snapdragon 820, Quad-Core 64-Bit Kryo 2.2GHz, Adreno 530 GPU, 14nm, PoP – MFG: QUALCOMM - MPN: MSM8996
SDRAM, Mobile DDR4, 4GB, PoP – MFG: SAMSUNG SEMICONDUCTOR INC. – MPN: K3RG2G20CM-MGCJ
Flash, UFS NAND, 64GB, MLC – MFG: SAMSUNG SEMICONDUCTOR INC. – MPN: KLUCG4J1CB-B0B1
Primary Camera Module, 12MP, BSI CMOS, 1/2.5" Format, Auto Focus Lens, Optical Image Stabilization, 6P Lens
12-Layer, FR4/RCF HDI, Any Layer Stacked Via, Lead-Free – MFG: DAP CORPORATION
Enclosure, Main, Top, Machined Aluminum, Anodized, w/Injection-Molded Glass-Filled PBT, w/17 Metal Tabs, Polished, w/ESD/EMI Coating
Enclosure, Main, Bottom, Cover, 3-D Curved Tempered Glass, 2 Holes, w/Multi-Color Film, GORILLA® GLASS 5 – MFG: CORNING INCORPORATED
Bluetooth/WLAN Module, Contains Broadcom BCM4359, IEEE802.11ac, 2.4GHz/5GHz, Bluetooth 4.2 – MFG: SAMSUNG ELECTRO-MECHANICS
8-Layer, Rigid/Flex Hybrid, FR4/Kapton, 1+6+1, Lead-Free – MFG: SIFLEX CO. LTD