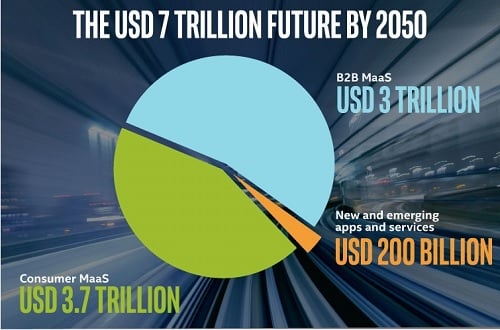 Intel sees mobility-as-a-service generating nearly 98 percent of the revenues from self-driving cars. (Source: Intel)Self-driving cars are not on the road yet, but that hasn't stopped companies from predicting the potential market's growth.
Take Intel Corp.'s study into the economic potential of self-driving cars getting on the road, only to turn drivers into idle passengers, for example. Intel says this "passenger economy" will grow from $800 billion in 2035 to a whopping $7 trillion market by 2050.
The reason for such a rapid growth is due to the technology's massive change in how society views and treats transportation impacting consumers, businesses and all aspects of life. Intel points to other societal changes such as personal computing, the internet, connectivity and smartphones as giving birth to new economies.
"Companies should start thinking about their autonomous strategy now," says Brian Krzanich, CEO of Intel. "Less than a decade ago, no one was talking about the potential of a soon-to-emerge app or sharing economy because no one saw it coming. This is why we started the conversation around the 'passenger economy' early, to wake people up to the opportunity streams that will emerge when cars become the most powerful mobile data generating devices we use and people swap driving for riding."
The emergence of autonomous driving along with smart city technologies will reconfigure entire industries and invent new ones because people will have more time to put forth into other endeavors, Intel says.
The study expects one of the first changes due to autonomous driving will emerge in the business-to-business sector, since pilotless vehicle options will reinvent the package delivery and long-haul transportation sectors. This alone will relieve driver shortages around the world and account for two-thirds of the initial projected revenues, Intel says.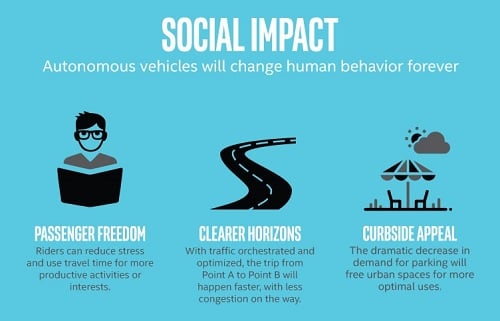 Autonomous vehicles will free up to more time for consumers to do more things socially. (Source: Intel)Furthermore, mobility-as-a-service (MaaS) for businesses is expected to generate $3 trillion in revenues, or 43 percent of the total passenger economy. Consumer use of MaaS is expected to account for $3.7 trillion in revenues, or 55 percent of the total passenger economy.
Meanwhile Intel sees $200 billion coming from the rise in consumer use of new innovation applications and services that will emerge from pilotless vehicle services.
Intel also believes 585,000 lives will be saved due to self-driving vehicles from 2035 to 2045, and this reduction in traffic accidents will save more than $234 billion during that same time. Autonomous vehicles will also free up more than 250 million hours of consumers' commuting time per year, Intel says.
Future scenarios that will emerge from self-driving vehicles include the explosion of content for the vehicle, to match short and long travel times; pod platooning to different locations such as restaurants, healthcare clinics, hotels and more; and the rise in location-bases advertising.
Read Intel's full report on the future of self-driving, entitled: Accelerating the Future: The Economic Impact of the Emerging Passenger Economy