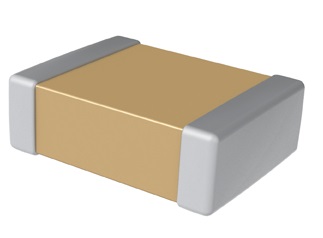 The EIA 0603 capacitor. Image credit: Kemet
Kemet has introduced an expansion to its high voltage multilayer ceramic capacitor portfolio with a tiny device that offers designers the ability to continue miniaturizing trends while still operating at voltages up to 1,000 VDC.
The EIA 0603 extends Kemet's capacitance range that is now on average three times greater in devices with voltage ratings of 500, 630 and 1,000 VDC when compared to Kemet's previous portfolio.
The series of capacitors, based on Kemet's patented base metal electrode (BME) technology, offers stability with no capacitance change versus DC voltage and negligible capacitance change over temperature.
The capacitors are available in both commercial and automotive grades in standard and flexible termination systems and are Pb-free, RoHS and REACH compliant.