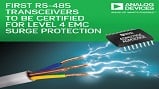 Analog Devices, Inc.
 has announced RS-485 transceivers fully certified for Level 4 EMC surge protection, thus eliminating the need for external transient-voltage surge-suppression devices. The galvanically isolated ADM2795E, using Analog Devices 
i
Coupler® magnetic-isolation technology and non-isolated ADM3095E, saves space and component count, speeds up time to market, and greatly minimizes regulatory compliance issues.

The integrated fault protection offered by the devices prevents potentially destructive voltages from damaging the communication interface, which can result from failures, surges, electrostatic discharge (ESD) and wiring errors.

Designers using the RS-485 transceivers no longer need to individually design, test, verify and formally obtain regulatory certification of their implementation, as these components have the required approval. Also, no external protective components are needed, eliminating the need to match these discrete devices to the specific RS-485 transceivers users have selected.

The ADM2795E and ADM3095E RS-485 transceivers meet IEC61000-4-5 Level 4 surge protection requirements, as well as industrial IEC immunity standards (radiated, conducted and magnetic immunity) and EMC protection against ESD, electrical fast transient and surge. Both devices are TIA/EIA RS-485/RS-422 compliant over their full supply range of 3 V to 5.5 V. In addition, the available evaluation boards, IBIS models, safety and regulatory compliance certificates, and videos and application notes available for the RS-485 transceivers greatly simplify the design-in process. 

The transceivers carry IEC 61000-4-x immunity across isolation barrier and are Level 4 certified for EMC protection on RS-485 A, B Bus Pins. They also carry IEC61000 surge protection. Other specifications include ±8 kV contact discharge, ±15 kV air-gap discharge, ±42 V AC/DC peak fault protection, and an extended common-mode input range of −25 V to +25 V.
List price for the ADM2795E is $5.95 each in quantities of 1,000; the ADM3095 is priced at $4.50 each in 1,000-piece quantities.