As vehicles become more complicated the number of fuses used in them has increased. Many early
Blade-type autyo fuses. Source: havarhen/CC BY-SA 3.0 automobiles like the Model T didn't have any fuses at all.
Automotive fuses have been a required safety feature since at least the 1930s. While the fundamental function of a fuse has remained largely unchanged, the form factor in which they are manufactured has changed over the years. Although an old technology, they are likely to remain in use for many years, unlike home fuses. In vehicles, circuit loads remain constant and known unless a fault occurs. For this reason fuse replacement is a rare event and many vehicles never need a fuse replacement.
Today most vehicles use blade fuses. These look like colored plastic devices with two and sometimes three metal blades. Each fuse is labeled with an amperage rating and should be replaced with the same size fuse. Blade fuses contain a fusible link that is visible in the center of the fuse that provides the protection and will blow in the event of an overload. The exact physical size and shape of the blade fuses has varied over the years, generally tending towards miniaturization for vehicle electronics. Larger blade fuses are still often used under the hood for high-power circuits. Common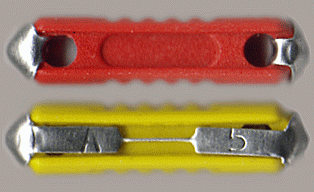 Torpedo-type fuses. Source: havarhen/CC BY-SA 3.0blade fuse designs include regular, mini, low-profile, micro and the larger maxi fuse, which is typically rated for 25 amps or more. Low-power circuits such as a car radio or lighting circuits will typically run on 5 amps or less, but sometimes requires 10 amps depending on the vehicle.
Many older European vehicles use a torpedo fuse, which is a different design than a blade fuse but provides the same function of protection. This fuse looks like a short length plastic part with metal contacts on the ends and the fusible link in the middle.
Glass tube fuses were used up to 1981 and are still used in some automotive and non-automotive applications. These fuses look like small glass tubes with metal caps on the ends, with the fusible link contained inside the glass tube. Some aftermarket devices such as car radios still use glass tube-type fuses installed in an inline fuse holder.

Glass-tube style fuse. Source: Aka/CC BY-SA 2.5
Other automotive fuses exist but are used less often, such as a J-case fuses, which look like a rectangular box, or fuses with screw terminals.
In the end what is important is that the fuse protects the vehicle from drawing too much current and causing other issues when a fault occurs.