Stanford University and the U.S. Department of Energy's SLAC National Accelerator Laboratory have launched a new initiative that aims to develop smart technology that will bring the current state of the electric grid into the future.
Experts suggest that to curb the negative effects of global warming, society would need to switch to low-carbon and inexpensive energy sources like wind and solar—on a much larger scale. Doing so would be challenging, though, because it could throw off the potential electric grid balance and potentially even trigger outages.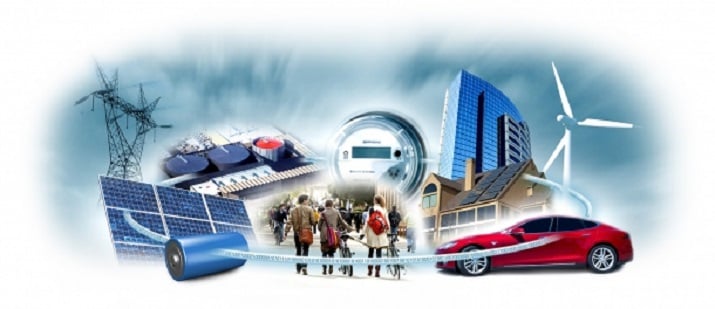 Bits & Watts will develop "smart" technology and marketing and policy solutions to bring the electric grid into the 21st century. (Image Credit: SLAC National Accelerator Laboratory)
The collaborative efforts, called "Bits & Watts", hopes to solve the problem and deliver reliable, efficient, affordable power to homes and businesses.
The groups will go beyond technology to develop market structures, regulatory frameworks, business models and pricing mechanisms that are necessary to make the grid run smoothly. The combination of SLAC technical experts, Stanford experts in business, law and engineering, as well as industry and policymakers will help to identify and solve problems that stand in the way of grid modernization.
"The first challenge was to bring down the cost of wind, solar and other forms of distributed power. The next challenge is to create an integrated system," said Steven Chu, a Stanford professor, Nobel laureate and former U.S. Energy Secretary and one of the founding researchers of Bits & Watts. "We must develop the right technologies, financial incentives and investment atmosphere to take full advantage of the lowering costs of clean energy."
The Electric Grid
According to the researchers, the U.S. electric grid is actually two giant networks that span over two continents, along with a third, smaller network in Texas. These networks connect power sources and consumers via transmission lines. "Each network runs like a single machine, with all its parts humming along at the same frequency, and their operators try to avoid unexpected surges and drops in power that could set off a chain reaction of disruptions and even wreck equipment or hurt people," according to the news release.
"Today's electric grid is one of the greatest engineering achievements of the 20th century and the lifeblood of the modern economy. But it's also an incredibly complex and finely balanced ecosystem that's designed to handle power flows in only one direction – from centralized power plants to the consumer," said Arun Majumdar, a Stanford professor of mechanical engineering who co-directs both Bits & Watts and the university's Precourt Institute for Energy, which oversees the initiative.
Majumdar adds that new tools will be necessary (computing, communications, controls, and data sciences) as more low-carbon and variable sources are placed back into the grid by consumers.
"Technology has enabled many new options for how people get their electricity," said Frank Wolak, a Stanford economics professor and the other co-director of Bits & Watts. "Deploying the least-cost mix of these technologies to meet the needs of current and future electricity consumers will require new wholesale and retail market mechanisms and new regulations. A research effort involving engineers, social scientists and legal scholars, as Bits & Watts is doing, is essential to achieve this goal."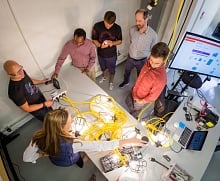 Researchers in SLAC's GISMo laboratory. (Image Credit: SLAC National Accelerator Laboratory)
Simulating the Grid
In order to employ digital sensors and controls and collect data from millions of sources, including rooftop solar panels, electric car charging stations, and wind farms, the teams will work inside of two cloud-connected labs.
They will be able to provide the real-time feedback grid operators need to seamlessly incorporate variable sources of energy and automatically adjust power distribution to customers.
Next year the SLAC and Stanford labs will begin incorporating groups of homes and commercial buildings into their data gathering and simulations to test software and hardware in development.
"Bits & Watts will offer a trusted, unbiased and highly technical source of analysis, expertise and data, and it will develop ways that we can share data without compromising privacy, security or confidentiality," said Sila Kiliccote, a SLAC staff scientist and head of SLAC's Grid Integration, Systems and Mobility (GISMo) lab.
All of the grid-related software developed by Bits & Watts will be open source, so it can be rapidly adopted by industry and policymakers and used by other researchers.
Learn more about the Bits and Watts initiative here.