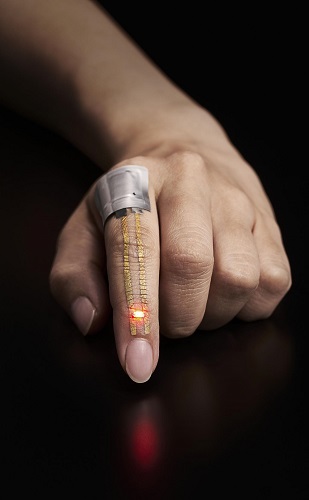 The electric current from a flexible battery placed near the knuckle flows through the conductor and powers the LED below the fingernail. Source: University of Tokyo Advances in healthcare monitoring are enabling new ways to observe heart rate and other vital health signals. One of the new ways to monitor these vital signals is by utilizing wearable electronic sensors that are worn on the skin over a long period of time.
Wearable electronics that are elastic and constructed of breathable nanoscale meshes hold promise for the development of noninvasive e-skin devices. The University of Tokyo has developed an electrode constructed from nanoscale meshes containing a water-soluble polymer polyvinyl alcohol (PVA) and a gold layer—materials considered safe and biologically compatible with the body.
The device, which is a patch that measures oxygen in the blood, is applied by spraying a tiny amount of water, which dissolves the PVA nanofibers and allows it to stick easily to the skin. It can conform seamlessly to curved surfaces of the human skin, such as sweat pores and the ridges of an index finger's fingerprint pattern.
Researchers tested the skin patch on 20 subjects and detected no inflammation on the participants' skin after they had worn the device for a week. The University of Tokyo evaluated the permeability with water vapor of the nanomesh conductor along with those of other substrates like ultra-thin plastic foil and a thin rubber sheet. They found that its porous mesh structure had superior gas permeability compared to that of the other materials.
Researchers were able to test the device's durability through repeated bending and stretching more than 10,000 times attached to a forefinger. They then established its reliability as an electrode for electromyogram recordings when its reading of the electrical activity of muscles were comparable to those obtained through conventional gel electrodes.
"It will become possible to monitor patients' vital signs without causing any stress or discomfort," researchers say.
While primarily useful in areas such as nursing care or medical applications, the device could be used for more precise monitoring of an athlete's physiological signals and bodily motion without impeding performance.
The full research can be found in the journal Nature Nanotechnology.