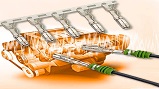 TE Connectivity (TE) has announced its HPF 1.2 interconnection system for harsh automotive applications. The solution is designed to withstand increasingly high vibration loads associated with modern high-performance engines and ultra-efficient downsized engines.
The HPF 1.2 interconnection system was successfully tested at TE's Bensheim Technology Center, where it handled vibration loads up to four times higher than previous electrical connection test specifications defined by AK, the German OEM work group. TE used the basic design principles of its existing HPF 1.5 interconnection system to develop the solution to meet vibration loads as high as 80 g Sinus, occurring in a frequency range between 200 and 2000 Hz.
The system has a two-part design. Its external box spring ensures a low-friction guidance of the inner contact body. A meander-shaped geometry of this inner body compensates for micro movements. Design features limit the admissible movement of the meander zone to ensure required durability.

The contact is compatible with the common VDA 1.2 interface. It also is designed for massive flat tab contacts which are widely used to connect engine components. TE also fully optimized all of the system components including the terminal, housing and cable fixture.