Monitoring each cell in a stack of rechargeable batteries is a simple challenge, at least in concept: use a series of non-grounded (floating) digital voltmeters, or their equivalent via ADCs, and report each terminal voltage. In a real world, though, such as when this stack is in an EV/HEV automobile, the situation is very different and a far-greater challenge.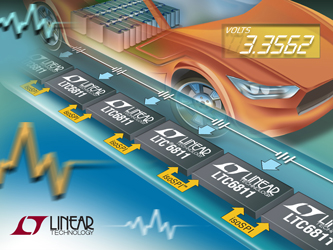 The LTC6811 IC from Linear Technology Corp.The vehicle's battery-management system (BMS) must provide precise, consistent data within an extremely noisy electrical and often hot environment, despite the high voltage/current inverters and resultant current spikes. In addition, it must provide extensive "fine-grain" data on internal module and system temperature measurements, which are critical for charging, monitoring and discharging, rather than just a few broad-brush aggregate values. Interconnection cabling must be kept to a minimum to save space, cost and weight.
Furthermore, along with data accuracy and integrity, the BMS must include continuous "health assessments" so it can take or incite needed actions. Achieving a robust design along with safety is a multi-level process, and the BMS must anticipate problems, perform self-test and provide failure detection on all subsystems, then implement appropriate actions while in standby and operational modes. As a final mandate, due to the high voltage, current and power levels, there are many stringent regulatory standards that the BMS must meet.
According to Linear Technology Corp., the LTC6811 IC is designed to help accomplish these difficult goals. An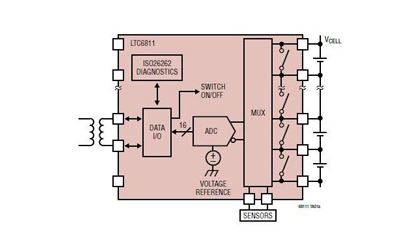 Figure 1: The LTC6811 provides the obvious non-functions and features needed to manage a stack of battery cells in a harsh electrical environment, such as the EV/HEV automobiles; it has 0.04% accuracy and high-voltage battery-stack monitor with isolated communications up to 100 Mbps.enhanced version of their LTC6804, it is a powerful building block for a BMS that meets the required performance, robustness and reliability mandates, the company claims. Within this device are a high-accuracy Zener voltage reference, high-voltage multiplexers, 16-bit delta-sigma ADCs and a 1-Mbps isolated serial interface, Figure 1. This set of functions enables it to measure up to 12 series-connected battery-cell voltages with better than 0.04% accuracy, aided by eight 3rd-order low-pass-filter settings (user-selectable) for enhanced noise reduction. In the fastest ADC mode, all cells can be measured within 290 µsec. Maximum total measurement error—aka the "bottom line" for system designers—is just 1.2 mV, Figure 2, according to the company.
Since most high-energy battery packs consist of more than just 12 cells, multiple LTC6811s can be interconnected and operated simultaneously using Linear Technology's proprietary 2-wire isoSPI interface, which provides electrically isolated communication despite an inevitably high RF-noise environment, at data rates up to 1 Mbps (isolation is needed for both data integrity and system protection). Using low-cost twisted-pair cabling (up to 100 meters), hundreds of cells can be connected via multiple LTC6811s in a daisy chain to a single host processor, thus enabling the measurement of hundreds of cells in these high-voltage battery stacks.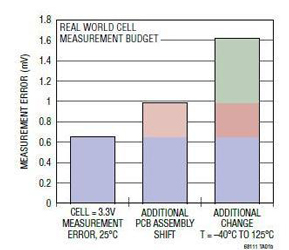 Figure 2: The maximum total-measurement error of the LTC6811, including errors due to PCB stress induced in manufacturing and temperature drift, is 1.2 mV.For product evaluating and design-in, LTC supports the LTC6811 with their Linduino technology, an Arduino-based microcontroller board and software library. This board includes an electrically isolated USB port and connects directly to the LTC6811 demonstration board, providing a simple platform for evaluating and developing the LTC6811.
The LTC6811 is housed in a 48-lead, surface-mount SSOP package (8 mm × 12mm), and is fully specified for operation from -40°C to 125°C. It has been designed for ISO 26262-compliant (ASIL) systems with its extensive fault coverage, which includes a redundant voltage reference, logic-test circuitry, cross-channel testing, open-wire detection capability, a watchdog timer and packet-error checking on the serial interface. It is priced at $8.19 each in 1,000-piece quantities.
To contact the author of this article, email engineering360editors@ihs.com