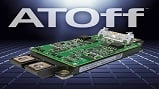 AgileSwitch, LLC
, innovator of intelligent IGBT and SiC MOSFET gate drivers, announces that it has "allowed patent claims" related to its proprietary Augmented Turn-Off (ATOff) switching technique. The firm expects the formal patent to be awarded within the next 60 to 90 days.
ATOff™ addresses two significant impediments to the implementation of Silicon Carbide modules in high-power applications. By reducing both turn-off spikes and ringing both under normal operation as well as short-circuit conditions (DSAT), SiC MOSFET modules can be operated in the higher frequencies that enable dramatic increases in power conversion density.
The ATOff technology has been incorporated into AgileSwitch's first SiC gate drive assembly. The software configurable EconoDual Electrical Master 3 (EDEM3) is optimized for driving SiC MOSFETs up to 1200 V currently offered by ROHM. The EDEM3 provides up to 15 A of peak current at an operating frequency up to 100 kHz. The driver includes isolated HI and LO Side DC/DC converters and monitors seven fault conditions that are reported as a combination of the 3 fault lines via the 20 pin control header.
Applications for the EDEM3 include: solar/PV inverters, wind turbines, energy storage, battery charging, induction heating/welding, electric vehicles (HEV/EV), trains and other traction vehicles. 
AgileSwitch intends to incorporate ATOff technology into new gate drivers for 62 mm SiC MOSFETs from Wolfspeed, Semikron, Microsemi and others.
List price for the MOSFET is $150 each in OEM quantities, with delivery 1 to 2 weeks ARO.