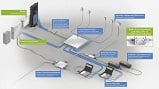 Communications Integrators, Inc. (Cii)
has announced ReVolt Control, a modular plug-and-play lighting and control system that optimizes building lighting and power usage. The lighting system can help architects, construction professionals and electrical contractors reduce on-site labor, material costs and energy consumption.
Designed for easy installation, ReVolt comes pre-configured and pre-provisioned; and its modularity allows you to simply snap it together. It can be reconfigured and hot-swapped live, making tenant improvements fast and painless.
With ReVolt, the user can set time schedules, adapt to occupancy and vacancy, and dynamically adjust brightness based on the amount of sunlight entering a space. The plug-and-play nature of ReVolt takes your space beyond LEED: its reusable infrastructure cuts your raw material usage by an order of magnitude every time you re-shape your space.
ReVolt is controlled through a simple graphic user interface. It can be installed both overhead and underfloor, and is compatible with any light fixture using a 0 to 10v driver or ballast for dimming. The control is compatible with most major sensors and enables sensors and zones to be assigned and reassigned graphically.