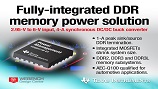 There are literally thousands of power-supply ICs on the market, spanning a wide range of input and output voltages, outputs, current ratings, packages and other parameter values. Even after you define your top-tier specifications, it can seem overwhelming to have to choose one or a few, at least at initial glance.
But the situation is not really as daunting as it may seem at first. The reason is that many of these ICs are actually application-specific devices that are optimized by topology, functions and performance to solve a well-defined, specific power-supply challenge.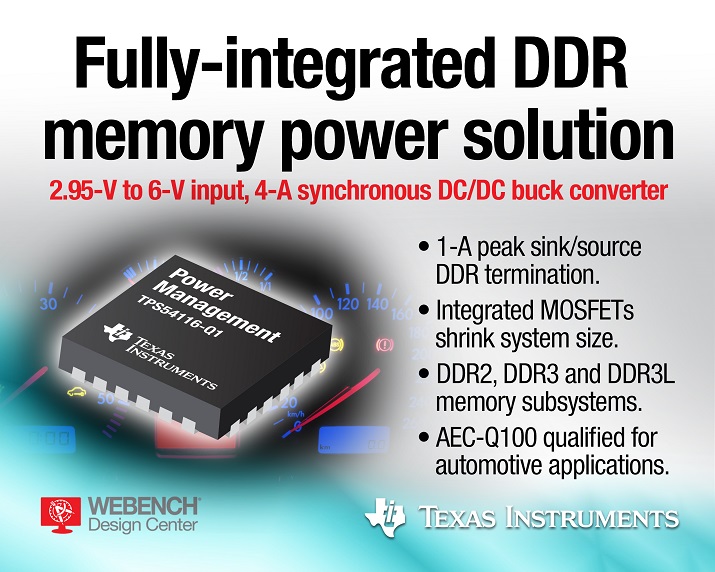 The TPS54116-Q1 DC/DC switching buck converter from Texas Instruments is designed specially to support DDR memory in the electrically and thermally harsh automotive environment. (Image source: Texas Instruments) A good example is the recently announced TPS54116-Q1 DC/DC switching buck converter from Texas Instruments, a 2.95-V to 6-V input, 4-A synchronous step-down converter. However there is more to it than just those basic specifications: it is designed specifically for double date rate (DDR)2, DDR3 and DDR3L memory subsystems in automotive and industrial applications. That means it meets the specialized power demands of DDR memory, as well as the stringent reliability and temperature-range mandates of automotive components.
Image
Texas Instruments claims this is the industry's first fully integrated power solution for DDR memory. Among other features it has 1-A peak sink/source VTT DDR termination and buffered reference. The result is a reduction in total power-subsystem size (footprint) by 50% when compared to discrete implementations.
Why the need for DDR memory in a car? Cars as recently as 25 to 30 years ago had no "electronics" except for the radio, but now they include applications such as infotainment subsystems, advanced driver assistance systems and advanced instrument clusters—all of which use DDR memory. The TI converter is Automotive Electronics Council-Q100 qualified with 4-kV electrostatic discharge protection, mandated in many automotive applications. Of course, the TPS54116-Q1 can also be used in non-automotive applications, such as telecommunications, test and measurement, and factory automation equipment, which often also have their own aggressive ruggedness requirements.
This buck converter operates at switching frequencies up to 2.5 MHz, which reduces the size of the requisite discrete inductors; the footprint is further reduced by the integrated low- and high-side power MOSFETs. As an additional recognition of automotive application realities, the switching frequency can be set above the medium-wave radio band for noise-sensitive applications, and can be synchronized to an external clock to minimize undesired beat frequencies. Unlike variable-frequency DC/DC-converter topologies (the better choice in some situations), this device's operating frequency is fixed across the entire output-load range to ensure switching-related noise is known and manageable.
The TPS54116-Q1 is available now and is packaged in a 4 mm × 4 mm thermally enhanced WQFN (very thin quad flat no-lead) package, priced at US $2.50 in 1,000-unit quantities. The vendor also offers a TPS54116-Q1EVM-830 evaluation module. Texas Instruments has also posted a useful blog for designers, which addresses issues involved with pushing switching frequencies beyond 1 MHz, "Four design tips to obtain 2-MHz switching frequency").