Electronics and Semiconductors
TechInsights Teardown: RoboSense Lidar RS-Helios
10 June 2022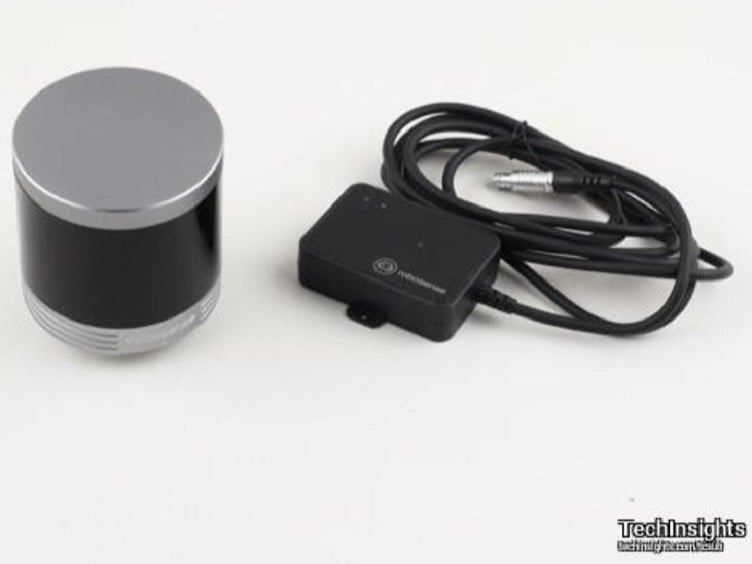 Lidar has become an important aspect of the automotive industry. Not just as one of the critical technologies needed to accelerate autonomous driving capabilities of the future but also for advanced driving assistance systems (ADAS) capabilities of today's cars.
Lidar is being quickly added to current vehicles to enable perception and mapping of the environment for anything from assisted parking to collision avoidance. When autonomous technologies are finished testing and deemed safe, lidar will be used for 3D mapping of environments around the car to give it views of pedestrians, other cars, cyclists and hazards in the road.
RoboSense's RS-Helios lidar device is designed for front perception and near blind side spot detection in vehicles today and for robots, autonomous vehicles and mapping applications of the future.
The lidar sensor contains two processors, a Dual-core ARM Cortex and a Spartan 7 field programmable gate array (FPGA), 512 MB of SDRAM, and optical encoders and temperature sensors.
The following is a partial deep dive into the RoboSense lidar conducted by TechInsights.
Summary points
Dual-core ARM Cortex
Spartan 7 FPGA
512 MB DDR3L SDRAM
Target market: Automotive, robotics
Released: November 2021
Pricing: $6,389
Availability: Worldwide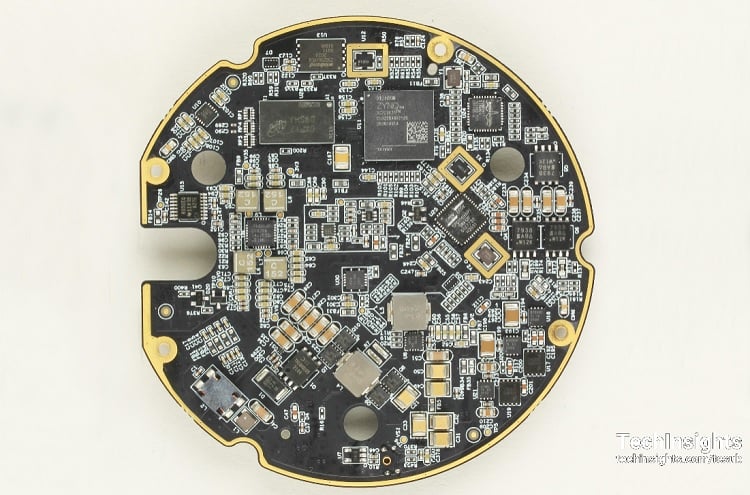 The main board contains the heart of the components needed to operate the lidar device with a dual-core Arm Cortex processor and main memory. Source: TechInsights
Main board
The main board of the RoboSense Helios lidar is the heart of the sensor device containing the main processors in the Dual-core Arm Cortex-A0 and programmable logic from Xilinx and the 512 MB of SDRAM memory from Micron. Other electronic components include:
DDR termination regulator, LDO voltage regulator, half-bridge gate driver, buck power block and power MOSFET from Texas Instruments
Automotive Ethernet transceiver from Broadcom
Serial flash memory from Winbond
ESD protection from Diodes Inc.
Slap-down DC-DC converter from Maxim
(Learn more about discrete components on Globalspec.com)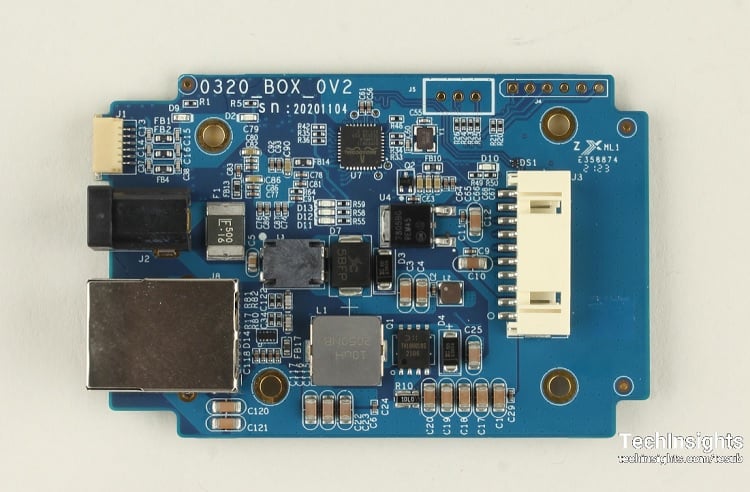 The digital adapter board houses the connectivity electronic components to communicate with other parts of the system and the vehicle it is integrated into. Source: TechInsights
Digital adapter board
The digital adapter board contains microcontrollers that function as connectivity and power management for the RoboSense Helios lidar. The components include voltage regulators by On Semiconductor, power MOSFETs from Diodes Inc., Ethernet transceiver from Broadcom and ST Microelectronics' ARM 32-bit Cortex-M3 microcontroller.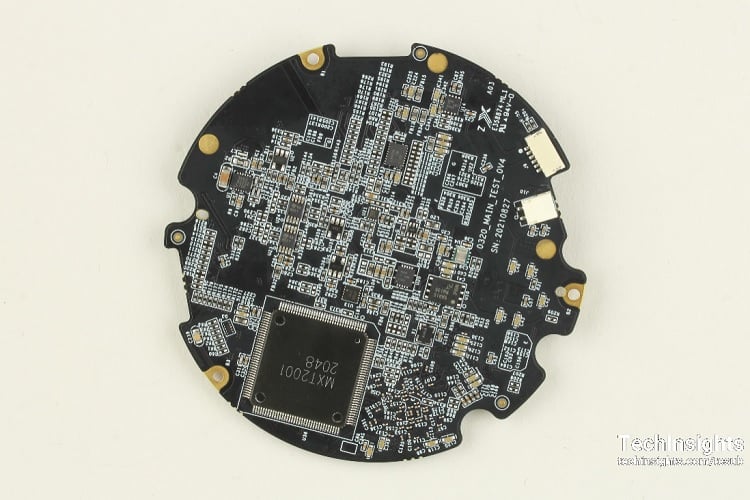 The auxiliary board contains a Xilinx Spartan-7 FPGA built specifically for the automotive market as well as other connectivity components. Source: TechInsights
Auxiliary board
The auxiliary board of the RoboSense lidar houses the Xilinx Spartan-7 automotive FPGA that is used to control the sensors, connectivity and power management inside the lidar sensors. Other electronic components include:
Synthesizer and VCO from Analog Devices
LDO regular, differential amplifier, slap-down converter and temperature sensors from TI
Slap down DC-DC converter from Maxim
ESD protection from Diodes Inc.
Clock buffer from IDT
Dual USB 2.0 switch from NXP Semiconductors
Power MOSFET from Vishay
(Learn more about FPGAs on Globalspec.com)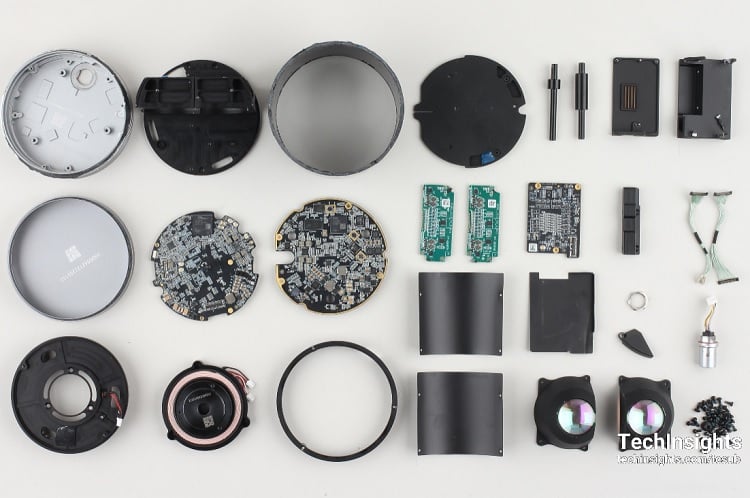 The entire electronic components found inside the RoboSense RS-Helios lidar device. Source: TechInsights
Manufacturing cost breakdown
$47.72 — Integrated circuits
$158.69 — Models, discretes and connectors
$6.65 — Substrates
$12.53 — Component insertion
$2.85 — Card test
$28.07 — Other subsystems
$115.11 — Non-electronic parts
$4.52 — Final assembly and test

Find Free Electronics Datasheets