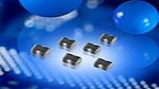 TransFeed™ and TransFeed Automotive Series varistors. Source: AVXAVX Corporation has added 26 VDC components to its dual-function TransFeed™ and TransFeed Automotive Series varistors, extending the series' superlative EMI/RFI filtering and bi-directional ESD protection capabilities to an even broader range of applications, including automobiles, power supplies, computers, medical instruments, smartphones, multimedia add-on cards, barcode scanners, remote terminals, transceivers, and test equipment.

TransFeed and Transfeed Automotive Series multilayer varistors (MLVs) are transient voltage suppression (TVS) devices that combine the most beneficial electrical characteristics of AVX's robust TransGuard® TVS devices with those of its proven feedthru capacitors in a 0805 single-chip solution that responds to transient events faster than any other TVS device available on today's market (<0.2 ns). The varistors reportedly provide overvoltage circuit protection and EMI attenuation over a much broader range of frequencies than comparable devices, and deliver significant EMI attenuation when in the off-state.

TransFeed and TransFeed Automotive Series MLVs utilize a ZnO varistor material coupled with the electrode pattern of a feed-through capacitor to maximize the package advantage of the feedthrough and the material advantages of the ZnO dielectric. This combination results in several electrical and physical advantages over standard ZnO MLVs, including reduced parallel inductance, increased series inductance, faster turn-on time (<250 ps), broadband EMI attenuation, multiple strike capabilities, and small size. Measured response times for the two series range from 200 – 250 pSec, which is less than half that of the fastest bipolar TVS solutions currently available. Both also exhibit excellent attenuation at high self-resonant frequency with a flatter roll-off characteristic than comparable devices, resulting in EMI filtering over a much broader frequency spectrum.

Rated for operating temperatures spanning -55 ºC to +125 ºC, the varistors are rated for 5.6 VDC – 26 VDC working voltage, 18 V – 60 V clamping voltage, 0.05 J – 0.3 J energy, 20 A – 120 A current, 500 mA to 1 A feedthrough current, and 0.15 Ω to 0.25 Ω DC resistance. Both series are available in 0805 cases with nickel-tin barrier terminations and are shipped on tape and reel in quantities spanning 1,000 to 10,000.
The TransFeed Automotive Series is qualified to AEC-Q200, and both the general purpose and automotive series MLVs are RoHS compliant. Lead-time for the series is 14 weeks.