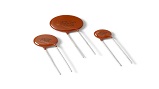 Littelfuse, Inc. has introduced its first varistor series designed for high power applications that can operate at ambient temperatures up to 125° C with 2500V isolation voltage. The HMOV™ Varistor Series' high operating temperature was made possible through the use of a new silicone coating technology. Competitive epoxy-coated varistor designs are typically limited to maximum temperatures of just 85° C.
The HMOV™ Varistor Series' high operating temperature makes it possible to reduce end-product production costs by eliminating the need for an additional heat sink or potting process. The combination of high operating temperature, high surge current absorption of up to 10 kA (8/20µs), reliability confirmed by a 1000-cycle thermal stress test, and high isolation voltage (2500 V) make the HMOV™ Varistor Series the highest performance radial-leaded varistor series currently on the market. The series is available in disc diameters of 10, 14 and 20 mm.
Applications for the HMOV™ Varistor include industrial automation controls, solar power inverters, security systems, fire alarm and smoke detectors, smart meters, outdoor LED lighting, base transceiver station (BTS) power supplies, and harsh environment and outdoor power supplies.
The varistors are thermal shock tested (1000 cycles from -55º C to +125º C), and meet UL 1449 and IEC 60950-1. 
HMOV™ Series Varistors are available in bulk, tape and reel, and ammo packaging. Depending on the rating chosen, they are available in minimum order quantities of 1,200 to 5,000 pieces.