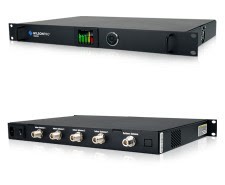 WilsonPro?4000R cell signal booster. Source: Wilson AmplifierThe WilsonPro 4000R from Wilson Amplifiers houses four independent signal boosters in a rack-mount unit. The 4-in-1 revolutionary design provides for boosted 2G, 3G and 4G LTE signals inside any large building up to 100,000+ square feet. It supports all cellular devices for all U.S. carriers such as AT&T, Verizon, T-Mobile, Sprint and many more providers.
In comparison, other enterprise signal boosters usually top out at 25K to 50K square feet. With up to a maximum coverage range of 140,000 square feet, depending on the outside signal, the WilsonPro 4000R is capable of providing better talk, text and high-speed internet and data for poor-reception buildings such as hospitals, industrial warehouses and other commercial buildings and venues.
For enterprise IT, professional installers and technology integrators, the need for only one outside antenna installation and the rack-mount form factor allow for easy, clean and fast install times.
Similar signal boosting solutions, such as DAS, usually take months to years from planning to deployment, whereas the WilsonPro 4000R takes weeks at a significantly lower cost.
The signal booster comes with a three-year warranty, a custom floorplan solution and a personal support manager from Wilson Amplifiers.