Meet Amazon's thinnest and lightest Kindle ever. With an all-new ergonomic design and dedicated buttons to effortlessly turn the page, Amazon is letting users read more comfortably than ever.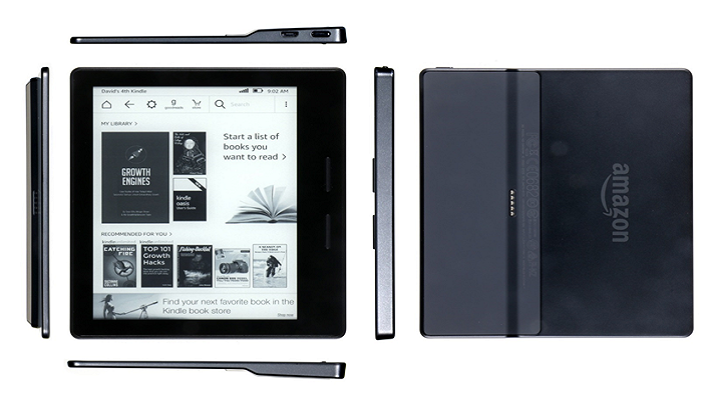 Amazon Kindle OasisThe Amazon Kindle Oasis has the longest Kindle battery life—the leather charging cover (included) boosts battery life to last months. Users can choose from a black, Merlot or walnut removable cover. The high-resolution 300 PPI display provides crisp, laser- quality text. The Kindle reads like real paper without glare, even in direct sunlight.
It also includes enhanced, built-in adjustable light that evenly illuminates the screen.
Summary points
Target market: General Consumer
Released: April 2016
Pricing: $380 from Amazon with Wi-Fi and 3G Cellular
Availability: Global
Total cost (direct materials and manufacturing): $85.72
Major Components:
6" Diagonal, Electrophoretic (EPD), 4-Bit Gray Scale, 1448 x 1072, N/T, with 10 Backlight LEDs & 2 Dome Switches, with Integral Flex PCB - MFG: E INK HOLDINGS INC. - (Qty: 1)
Charging Cover, with Leather Sleeve, with Integral Li-Polymer Battery & Neodymiums - MPN: DC67PL - (Qty: 1)
3G Module, GSM/EDGE/WCDMA, Contains Mediatek MT6280 & RFMD RF3236, with 3 PAMs - MFG: UNIVERSAL SCIENTIFIC INDUSTRIAL CO. LTD. - MPN: UNA-A - (Qty: 1)
Enclosure, Main, Bottom, Injection-Molded Glass-Filled ABS, with Insert-Molded Stamped Metal, Printed, with Clear Mylar Tape - (Qty: 1)
MCP, 4GB eMMC NAND Flash, 512MB Mobile DDR2 - MFG: SK HYNIX INC. - MPN: H9TP32A4GDDC-PRKGM - (Qty: 1)
Baseband Processor, SoC, 3G/HSPA+, USB2.0/SDIO/SPI - MFG: MEDIATEK INC. - MPN: MT6280 - (Qty: 1)
Application Processor, 32-Bit ARM Cortex A9 Core, 1GHz, 32KB Instruction Cache/32KB Data Cache/ 256KB L2 Cache, Integrated 2D Graphics Processor & Power Management, 40nm - MFG: NXP
SEMICONDUCTORS - MPN: MCIMX6L8DVN10AB - (Qty: 1)
6" Diagonal, GF1 Type, Direct Bonding, with Tempered Glass, with Protective Film, with Integral Flex PCB - MFG: TRULY OPTO ELECTRONICS LTD. - (Qty: 1)
MCP, 128MB NAND Flash + 32MB Mobile SDRAM - MFG: ELITE SEMICONDUCTOR MEMORY TECHNOLOGY INC. - MPN: FM64D1G56A-5BAE - (Qty: 1)
8-Layer, FR4/RCF HDI, 2+4+2, Lead-Free - MFG: ORIENTAL PRINTED CIRCUITS LTD. - (Qty: 1)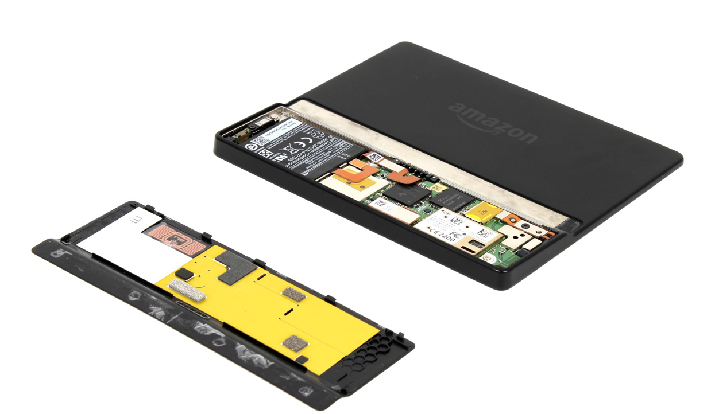 Kinlde Oasis with back cover removed.