Honeywell's Xenon 1900, the sixth-generation of area-imaging technology, features a custom image sensor that is optimized for barcode scanning. The Xenon 1900 offers industry-leading performance and reliability for a wide variety of applications that require the versatility of area-imaging technology. The area imager has image processing software with advanced editing features as well as the ability to load and link multiple applications on the scanner.
Summary points:
Xenon 1900 Model
Area-Imaging Technology
USB Interface
838x640 Area Image Pixel Array
Target market: Retail, Security, etc
Released: Early 2010
Pricing: ~$300 USD Retail
Availability: Major Online & B&M Resellers - Amazon, CDW, etc.
Total cost (direct materials and manufacturing): $36.86
Major Components:
- Image Sensor, 0.55MP, CMOS, 1/2.9" Format, 838 x 640 Pixels @60fps, 5.8um x 5.8um Pixel Size, 4.86mm x 3.71mm Active Image Area - MFG: E2V TECHNOLOGIES PLC - MPN: EV76C454BBTEQV- (Qty: 1)
- Application Processor, i.MX257, ARM 926EJ-S Core, 400MHz, 16KB L1 I/D Cache, 128KB SRAM, USB2.0 - MFG: FREESCALE SEMICONDUCTOR INC - MPN: MCIMX257CJM4A - (Qty: 1)
- Regulator, DC-DC Converter, Synchronous Step-Down, PWM, 1.5A, 1.6MHz - MFG: INTERSIL CORP - MPN: ISL9107IRZ-T - (Qty: 3)
- 8-Layer, FR4, Lead-Free - MFG: SHENZHEN KINWONG ELECTRONIC CO LTD - (Qty: 1)
- USB Cable, USB Type A to RJ45 Plug, 9.84ft, w/ Cable Tie & 2 White Mylar Labels - (Qty: 1)
- 2-Layer, Flex Kapton, Lead-Free, w/ Stiffener - MFG: SUZHOU IE-TECH CO LTD - (Qty: 1)
- Scanner Window Frame, 2-Shot Injection Molded Plastic & Polycarbonate - (Qty: 1)
- Buzzer, Magnetic Transducer - MPN: SMT-8540E - (Qty: 1)
- SDRAM, Mobile DDR, 256Mb, 166MHz, 1.8V - MFG: WINBOND ELECTRONICS CORP - MPN: W948D6FBHX6I - (Qty: 1)
- Enclosure, Main, Injection Molded Plastic, w/ Brass Insert - (Qty: 1)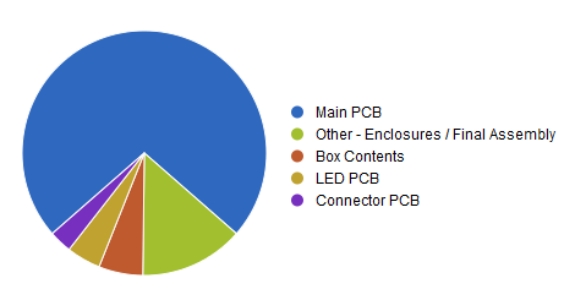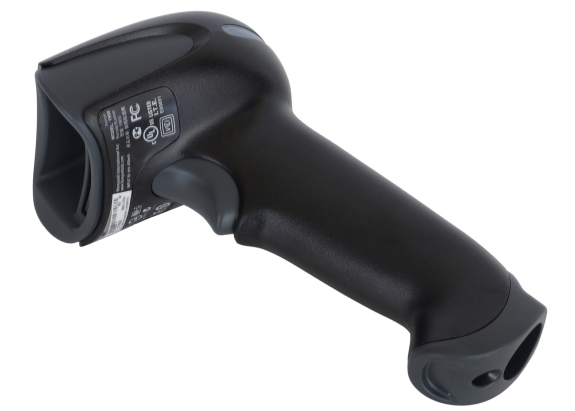 Device Overview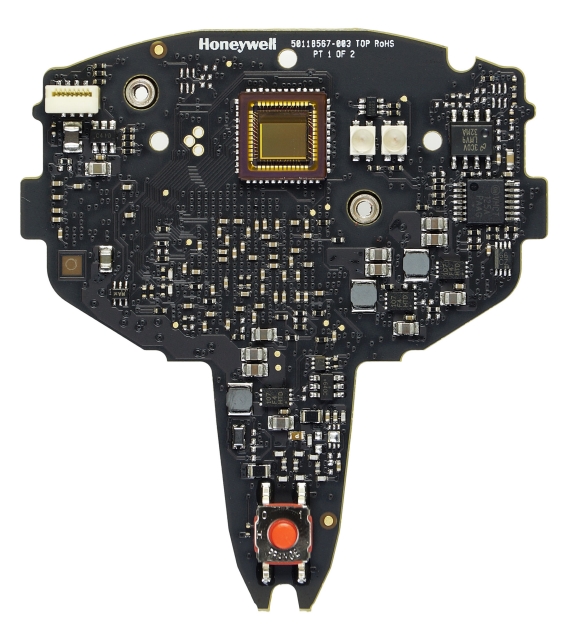 Main PCB Top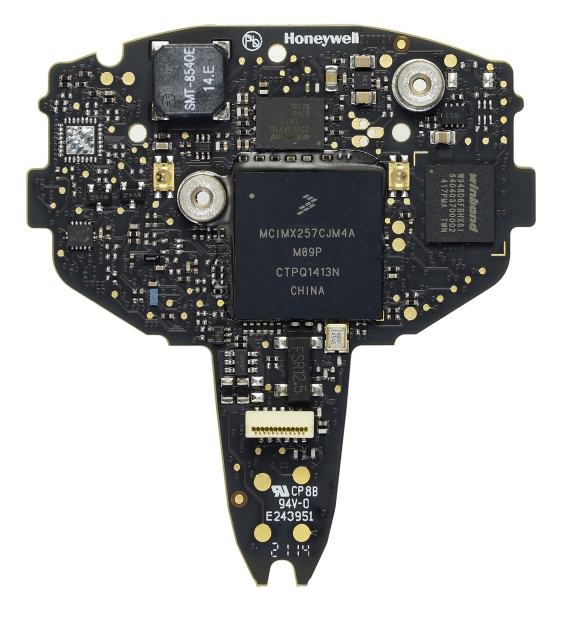 Main PCB Bottom