Many of today's most advanced computer innovations began as games and other entertainment, from the logical structure of user interfaces to the elaborate graphics that have become ubiquitous in operating systems and other software.
Although not exactly a recent invention, one such innovation—virtual reality (VR)—has largely remained in the background, waiting for sufficient developments in hardware and software to allow it to fulfill its ambitious promise. Most people regard VR as merely an interesting novelty that you might experience in a shopping mall or university computer lab. In many respects, it offers a 21st-century analog of flat-screen displays that can hang on the wall, a technology that today we take for granted. We tend to forget that for more than 25 years industry pundits ("experts") predicted that everyone would enjoy such luxury within 10 years. Now that VR has actually begun to emerge from the shadows, it makes sense to look at its advantages (and disadvantages) and potential applications.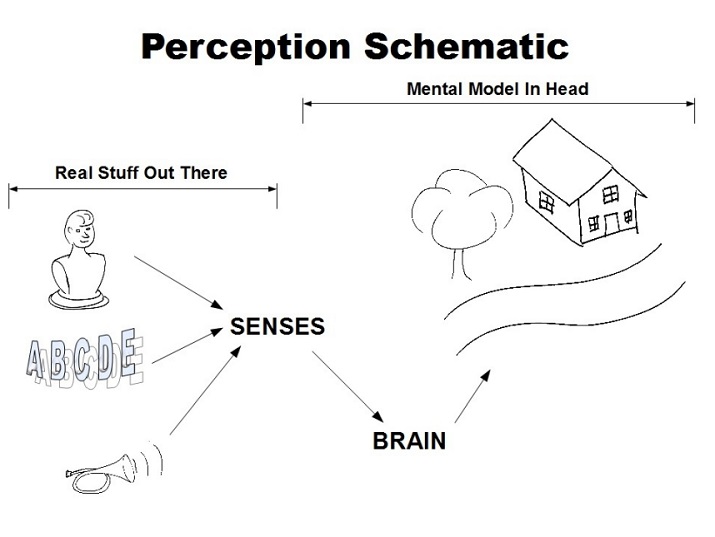 Perception of the exterior world relies on the brain building a mental model based on primary input. (Image credit: C. G. Masi)
In "Immersive Virtual Reality [IVR]: Medium and Message," C. G. Masi examines the fundamental differences between the real world and how our senses perceive it. (See Figure 1.) He regards VR as one of a plethora of techniques that allow the brain to construct a real-world model that it can understand. Images on paper or computer monitors of whatever size exist in only two dimensions. Our interpretation of those images creates the illusion that they show three dimensions or more. In Figure 2, Masi relies on color, light and shadow to suggest depth. Yet the illusion contains no more raw information than the original flat image does. It reveals nothing about the back of the object, for example. Also, viewers never completely lose touch with the real world. They can return to it by simply looking away from the screen, a distraction resulting in a loss of concentration. In entertainment, viewers may find the effect annoying and inconvenient, but not necessarily detrimental. For more critical applications, IVR offers a complete, self-contained, consistent environment, isolated completely from the real world. Navigating around an object in this situation allows observing it from all sides, exposing otherwise invisible relationships, although some users have found the experience somewhat disconcerting or disorienting if they are unprepared.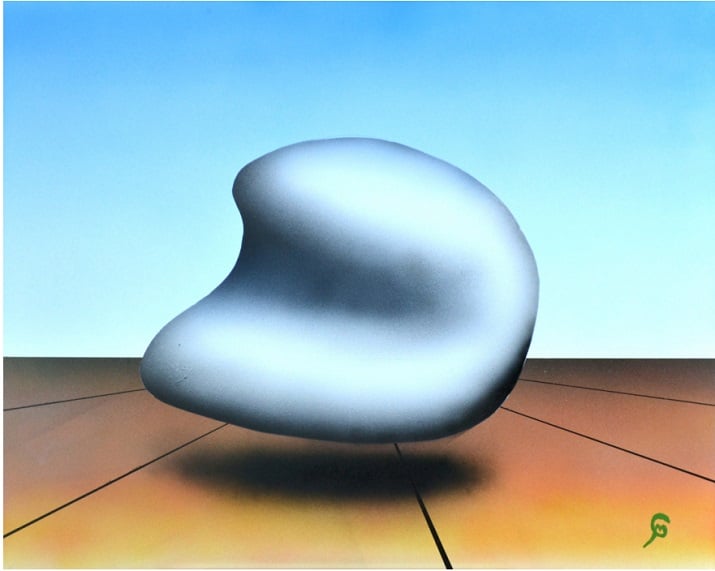 Surrealist landscape with white thing by C. G. Masi. (Image credit: C. G. Masi) (Headline) Virtual Reality Meets Electronics Manufacturing
The ultimate question remains: what can you do with the technology that you could not do before?
Inspection Before the Fact
Electronics manufacturers understand the necessity of ensuring that products work before they ship to customers. Long experience has vividly demonstrated that the earlier you discover a process or product problem, the less it costs to correct. As products become increasingly complex, the number of possible problems—large and small—increases. At the same time, customers have become no more tolerant of any kind of failures, however benign.
If you have already built a printed circuit board or a multi-board system, visible light, x-ray, and other inspection techniques in addition to well-established tests and measurements can determine whether it works. But a tool like IVR can help find problems before you expend the resources to create a physical object. Not everyone can easily visualize every implication of design decisions from a set of engineering drawings, or even from a 3-D rendering on a computer screen. Designing and building products in virtual space allows you to inspect them from every angle at every conceivable scale. However many criteria you program into design software to ensure the end product will perform as anticipated, patient examination of your creation in virtual space can help identify action items that you can address before committing the considerable investment of even prototypes or pre-production physical samples.
You might protest that numerous tools can already simulate products that you have not yet built. You could have made the same claim about a wide range of inspection, test and measurement tools that have emerged in the past few decades. At present, IVR has not yet achieved the sophistication and cost-effectiveness to justify its routine application. But as Moore's Law has reminded us for half a century, if you wait five or ten minutes, that problem will resolve itself.
Ready or not, the era of VR has arrived. Some engineers might regard it as "a solution in search of a problem." Perhaps. But implementing new solutions like IVR inevitably requires navigating a considerable learning curve. Thinking about it now ensures that when a problem requiring it finally arrives, you will be ready.