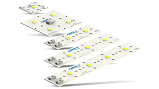 Global distributor
Mouser Electronics
, Inc. has announced a global distribution agreement with 
Opulent North America
, a division of Singapore-based Opulent Group and an international manufacturer of solid state 
lighting
components and modules.
The Opulent product line, available from Mouser Electronics, features a complete line of high-power LED modules, a starboard series with Cree's latest X-Lamp technology and Cree Chemical Compatibility Kits. The Opulent high-power modules, built with Cree SC5 technology, are an off-the-shelf platform to rapidly move from prototype to finished LED lighting fixture. These versatile building blocks are UL listed and include Cree XHP35, XHP50 and XHP70 LEDs in square, linear or rectangle formats. The modules also feature easy-to-use connectors with thermal interface to further simplify the lighting design.  
The Cree high-power starboard series, built with Cree LED XLamp technology, delivers high efficiency across a range of luminous flux options in a small, easy-to-use setup. The Starboard modules allow for flexibility, rapid prototyping, and sampling of the latest LEDs with 70 and 80 color rendering index (CRI) available in a full range of white and color options. Each starboard has detailed labeling on the back—including LED type, luminous flux, CRI and color temperature—to ensure traceability for prototypes and sampling.
Opulent's Cree Chemical Compatibility Kits help lighting engineers test the compatibility of chemicals, such as soldering flux or coatings, for the Cree XPE, MX and XHP LED product lines. The kits include a metal-core PCB with six LEDs, adhesive, glass vials and other tools.