When it comes to autonomous vehicles, also known as self-driving cars, there is a lot of uncertainty out there.
What will be done about making sure the cars are safe? How will the government, both local and federal, handle a line of cars that essentially drive themselves? What parameters are being set to ensure the cars follow the letter of the road and can react to changes around them?
And because there are numerous automotive companies—both traditional carmakers and start-up companies—entering the market for self-driving cars, the need to clarify these questions is becoming more of a necessity.
In an effort to get ahead of the curve with so many uncertainties, the U.S. Department of Transportation (USDOT) has issued what it calls the "Federal Automated Vehicles Policy"—a series of guidelines to establish a foundation and framework that will allow both makers of vehicles and the government to take action to make these uncertainties more concrete. The USDOT consulted with automotive experts, state governments, drivers and safety advocates in order to come up with ideas that will continue to evolve as more progress is made in the realm of self-driving cars. The agency is also calling on the public and private sector to comment on the Vehicles Policy in order to adjust the guidelines if necessary.
"Today, the automobile industry is on the cusp of a technological transformation that holds promise to catalyze an unprecedented advance in safety on U.S. roads and highways," the USDOT says in the Policy. "The development of advanced automated vehicle safety technologies, including fully self-driving cars, may prove to be the greatest personal transportation revolution since the popularization of the personal automobile nearly a century ago."
This revolution stems from the fact that 35,092 people died on U.S. roadways in 2015 alone and that 94% of these crashes were tied to human error. In self-driving cars, safety is the end-all, be-all development that needs to happen as safety technology or automated driving could help decrease the number of crashes tied to human choices or behavior. However the USDOT does see benefits beyond safety in self-driving cars in terms of creating more personal mobility for communities or members of the population that struggle with driving.
Enabling Safety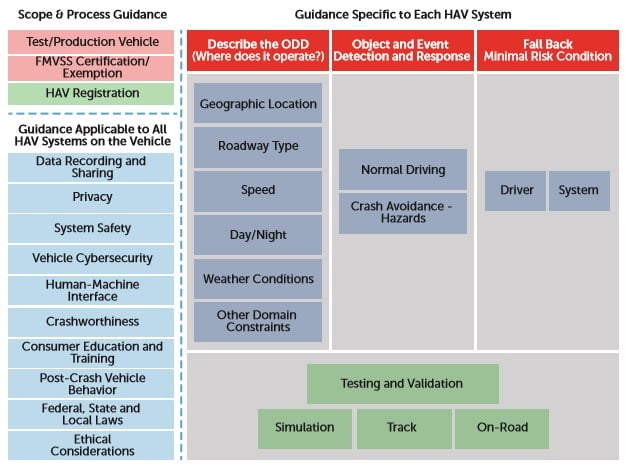 The USDOT's guidelines for the testing and deployment of self-driving cars in terms of safety requirements. Source: USDOT Under the guidelines, manufacturers of self-driving cars will be responsible for making sure they conform to the Society of Automotive Engineers International's public definitions for safety. This includes data recording and sharing, privacy, system safety, cybersecurity, human-machine interface, crashworthiness, and consumer education and training. But it also includes areas specific to each vehicle's automation functions, such as operation design domain—when and where a vehicle will be fully in control—object and event detection, and response and fall back minimum risk condition—when the vehicle realizes it can no longer drive itself.
These guidelines will apply to the testing of automated vehicles as well as production cars. In all, the guidelines lay out a 15-point safety assessment that must be met in order for the cars to receive approval from the USDOT.
Government Guidelines
The government guidelines apply to both state and federal responsibilities when it comes to autonomous vehicles. The state government will continue to issue licenses and register cars, enforce traffic laws, and regulate insurance and liability. The federal government will continue to pass laws and investigate and manage recalls. And as the automated function of these vehicles is considered a safety issue, the federal government will manage this aspect of all vehicles.
The USDOT has other guidelines for state governments that look to test and deploy automated vehicles and explain how they should go about administering these tests in a real-world situation.
The government also plans to speed up its communications of standards to automakers as well as introduce new regulatory tools to deal with self-driving cars in the future, such as data collection, software updates and much more.
To contact the author of this article, email engineering360editors@ihs.com