The NASA spacecraft Juno has successfully entered into the orbit of Jupiter and with it a mission to gather new data on the harsh planet—the likes of which we have never seen.
Microsemi Corporation is applauding the Juno mission after its five-year journey through the solar system, especially considering the semiconductor vendor's radiation-tolerant devices were used in the spacecraft to support the hostile and intense radiation environment around Jupiter.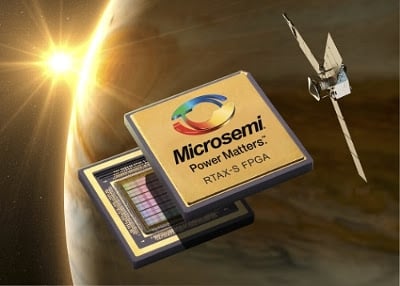 Microsemi has supplied the Juno spacecraft with a number of discrete diodes, transistors, FPGAs and power supply modules for its Jupiter mission. Source: Microsemi Over the next few months, Juno will transition to the final 14-day science orbit in order to collect data. Microsemi's radiation-tolerant field programmable gate arrays (FPGAs) from the RTSX-SU and RTAX-S product families were used in the spacecraft's command and control systems as well as in instruments that have been deployed to gather scientific data.
Microsemi says its radiation-hardened power supply modules are being used by Juno for support guidance and control systems, and a range of discrete diodes and transistors are being used in many of the mission critical avionics and platform functions.
To contact the author of this article, email engineering360editors@ihs.com