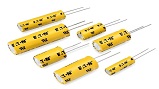 Today power management company Eaton announced its new TV supercapacitors with three-volt (V) cells that help increase stored energy capacity and power by 20% compared to 2.7 V cells.
Providing one of the industry's highest pulse power ratings, Eaton's supercapacitors enable improved system performance for utility meters, automotive systems, data center flash servers and industrial automation.
The three-volt supercapacitors can be used either in conjunction with or as stand-alone alternatives to batteries. In high-peak power applications, supercapacitors substantially extend the life of lead-acid batteries, reducing replacement costs. When Eaton's three-volt supercapacitors are used in combination with batteries, they offload the effect of multiple charge and discharge cycles, extending the operating life up to 50%. Supercapacitors can replace batteries because of their superior power density and their ability to release power in fast bursts.