Power management house Eaton has introduced an energy storage module designed to provide fast discharge for bridge events in uninterruptible power supplies (UPS) for mission critical applications where power losses are unacceptable.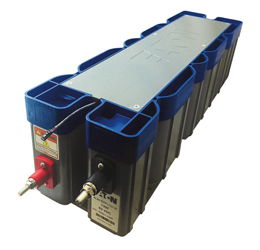 Eaton's XLM supercapacitor energy storage module offers a green alternative to lead-acid batteries and is maintenance free. Source: Eaton The XLM supercapacitor energy storage module is a green alternative to lead-acid batteries and is maintenance free for grid storage and backup power applications. Eaton says the XLM module can significantly lower the total cost of UPS ownership in cloud computing, data center, hospitals, semiconductor industry and other markets.
Jason Lee, global product manager for Eaton's Electronic Division, says in a statement that supercapacitor-based modules are gaining traction in the energy storage market as they offer a longer life than the batteries they replace. "Longer life offers several benefits for lowering the total cost of UPS ownership over the system's 20-year life expectancy by reducing battery maintenance, control and replacement costs," Lee says.
The company says the module allows for graceful shutdown of systems and the ability to ride through power disruptions such as sags, spikes and dropouts. This allows for a smooth transition to a permanent backup solution such as fuel cells or diesel generators. It also allows for 69-watt hours and the ability to discharge 7,800 amps, the Pleasanton, Calif-based company says.
The module is self-contained devices housing 23 individual Eaton XL60 supercapacitor cells, is lead-free and compliant with the Reduction of Hazardous Substance Directive (RoHS) for green applications.
Supercapacitors do not need chemical reactions to discharge energy while lead-acid batteries depend on chemical reactions to produce enough energy for the required discharge and are sometimes unable to instantly supply power within short time frames. Supercapacitor-based energy storage modules can now start up in less than 15 seconds making them ideal for cloud computing data centers that require as little as 15-to-20 seconds to redirect data for backup, Eaton says.
Questions or comments on this story? Contact engineering360editors@ihs.com
Related links:
News articles:
New Storage Approach for Solar Thermal Energy Could Reduce Costs
Researchers Stumble Upon Breakthrough That May Increase Storage Ability of Dielectric Capacitors
Rugged Ceramic Batteries Deliver 3X Leap in Capacity, Operate At 120°C and Beyond
Freescale Expands Highly Integrated Battery Cell Controller Portfolio