Vishay Intertechnology Inc. has introduced its smallest, automotive-grade, IHLP, low-profile, high-current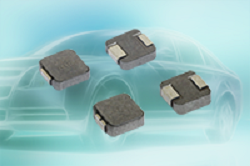 Source: Vishay Intertechnology Inc.inductors to date.
Offered in the 3.3 mm x 3.3 mm 1212 case size to save space in next-generation advanced driver-assistance systems (ADAS) and sensor applications, the Vishay Dale IHLP-1212AZ-A1 and IHLP-1212AB-A1 combine operating temperatures of 125° C with extremely low profiles down to 1 mm, while the IHLP-1212AB-5A features high operating temperatures to 155° C and a profile of 1.2 mm.
The recently released AEC-Q200-qualified devices are optimized for energy storage in DC/DC converters up to 5 MHz. They also provide excellent attenuation of noise in high-current filtering applications up to the self resonant frequency of the inductor. With their high operating temperatures, the inductors are designed for filtering and DC/DC conversion in ADAS, sensor and infotainment systems, in addition to noise suppression for medium-current filter applications.
Packaged in a 100% lead-free shielded, composite construction that reduces buzz to ultra-low levels, the IHLP-1212AZ-A1, IHLP-1212AB-A1 and IHLP-1212AB-5A inductors offer high resistance to thermal shock, moisture and mechanical shock, and handle high transient-current spikes without saturation. The devices are RoHS-compliant, halogen-free and Vishay Green.
Source: Vishay Intertechnology Inc.