Molex has introduced 
Brad® M12 Power F-Coded cordsets and receptacles
, which carry up to 16.0 A per pin with a blind-mate key design. While the products were developed to meet the growing power requirements of motors, solenoid-operated valves, actuation equipment and 24 VDC auxiliary power systems in automation control systems, they are also well suited for LED lighting and commercial vehicle applications.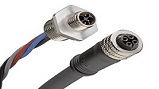 Brad® M12 Power F-Coded connectors. Source: Molex.
The F-Coding mating interface prevents accidental usage with other M12 connectors being used for input, output, signal or industrial network connections. Also, the blind-mate key design significantly reduces the chance of mismating, especially in restricted access locations where visibility is limited. To eliminate the chance of electrical shock, connector pins are recessed in a contact carrier. An enhanced receptacle design more efficiently dissipates heat generated by the higher current-carrying capability while maintaining its compact size.
The four-pin, M12 connectors accommodate wire sizes up to 14 AWG/2.5mm2 and are rated for 300 V AC/DC operation with a dielectric withstanding voltage of 1,600 V. The operating temperature range for the connectors is –20 to +90º C, and an IP67 seal interface makes them ideal for use in harsh and wet industrial environments. The connectors are dustproof and can be temporarily submerged in up to 1m (3', 3.37") of water.
In addition to panel-mount male and female receptacle cordsets, the F-Coded series includes single-ended and double-ended cordsets, with straight or 90° male or female connectors.