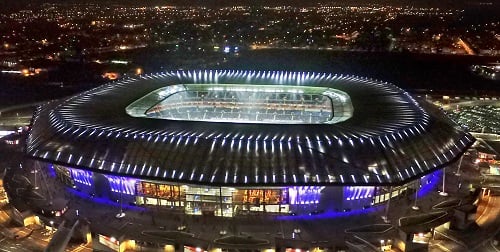 Parc Olympique Lyonnais stadium will be transitioning to LED lighting. Source: Philips LightingSports stadiums have been making the switch to light emitting diode (LED) lighting for a while now in the U.S. Stadiums such as the Los Angeles Memorial Coliseum and the Nissan Stadium in Tennessee have made the switch, but so far in France it hasn't happened.
Until now.
Philips Lighting is supplying the 59,286-capacity Parc Olympique Lyonnais stadium with LED lighting, the first stadium in France to switch to LED pitch and grandstand lighting with moving entertainment color spots.
Home to the French Lique 1 club Olympique Lyonnais, the stadium will help with energy savings in addition to providing better lighting for soccer and other sporting events, entertainment shows and concerts.
The stadium will use Philips' ArenaVision LED pitch lighting system that will enable better viewing of sports in ultra-high definition, the company says. The lighting system is instantaneously at full brightness allowing clubs to adapt the lighting to the needs of the stadium such as dimming or switching off lighting so that selected parts of the pitch are lit for training or maintenance.
The stadium will use 260 ArenaVision LED fixtures, 30 Vari-Lite moving color projectors and 66 ClearFlood large fixtures for the grandstands. The lighting is fully programmable and able to create scenes for different events. The lighting is going to be installed in time for Lyon's first match of the French soccer season on Aug. 5.