Mouser Electronics, Inc. has signed a global distribution agreement with VIA Technologies, Inc., for machine-to-machine, Internet of Things and smart city applications.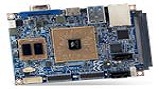 VIA's EPIA-P910 board is one of the products Mouser Electronics will carry under a global distribution agreement. Source: VIA The VIA product line, now available at Mouser Electronics, consists of a series of powerful, highly integrated boards and modules that enable the rapid development of embedded system designs based on industry-standard PicoITX and ETX form factors. The VIA EPIA-P910 integrates the advanced performance of a 1.2 GHz VIA Eden® X4 processor with a media system processor (MSP), and a rich set of inputs and outputs (I/O) and connectivity features, including two USB 3.0 ports, one gigabit ethernet port, one Mini-HDMI port and one VGA port.
The VIA EPIA-M910 is available with a 1.2 GHz VIA QuadCore E-Series (with fan) processor, 1.6GHz VIA Nano® X2 E-Series processor, or a fanless 1.0 GHz VIA Eden X2 processor. The board also includes an MSP, onboard HDMI and VGA ports, two 18/24-bit LVDS connectors, dual gigabit ethernet ports, and support for up to eight USB 2.0 ports and eight COM ports.
The VIA ETX-8X90 is a highly integrated embedded multimedia module with native ISA/PCI support for legacy expansion cards and applications. Powered by a 1.2 GHz VIA Nano X2 E-Series dual-core processor and VIA VX900 MSP, the board offers exceptional processing and multimedia performance, and provides an easy upgrade path for existing ETX devices.
The VIA VAB-600, VAB-820 and VAB-1000 Pico-ITX boards combine rich I/O connectivity with low power consumption to offer a choice of ultra-reliable, cost-efficient ARM platforms. The VAB-600 features an 800 MHz processor, the VAB-820 provides a 1.0GHz quad core NXP system on chip (SoC), and the VAB-1000 offers a 1.0 GHz dual-core VIA Elite E1000 SoC.