Illinois Capacitor HC and LC Series conduction-cooled capacitors are designed for resonant power circuitry having very high current demands. Large, flat copper plates allow the LC Series of capacitors to reliably handle the current and voltage in resonant power circuits. The HC Series uses compact, rectangular-block types.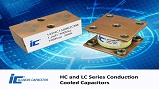 HC and LC series conduction-cooled capacitors. Source: Illinois Capacitor With ratings of up to 1,200 amps RMS and 1,100 VAC, the capacitors can support a full range of industrial and high-capacity battery-charging applications. Depending on the series, parts are designed with single- or multiple-element construction. Dielectrics are impregnated to reduce the risk of corona within the capacitor.
Applications include induction heating, resonant power supplies, RF amplifiers, welding equipment and electric vehicle charging stations.
Devices can be used in resonant circuits ranging from 9 kHz to 1 MHz depending on the capacitance value. Standard capacitance values are from 0.05μF to 37μF. Operating temperature ranges from –40° C to +85° C.
The capacitors are self-healing and incorporate Polypropylene dielectric material. They are halogen free, ROHS-compliant and UL94V0 flame retardant.