At this week's InfoComm 2016, LG Electronics debuted its dual-view flat organic light emitting diode (OLED) display, which the company claims is the first digital signage solution to offer OLED technology commercially available in the U.S.
LG, which will begin shipping the displays next month, says the display will lead its new commercial OLED portfolio that will include a customizable dual-view curved tiling OLED display, which is paper-thin in design and is capable of producing perfect blacks and improved color resolution.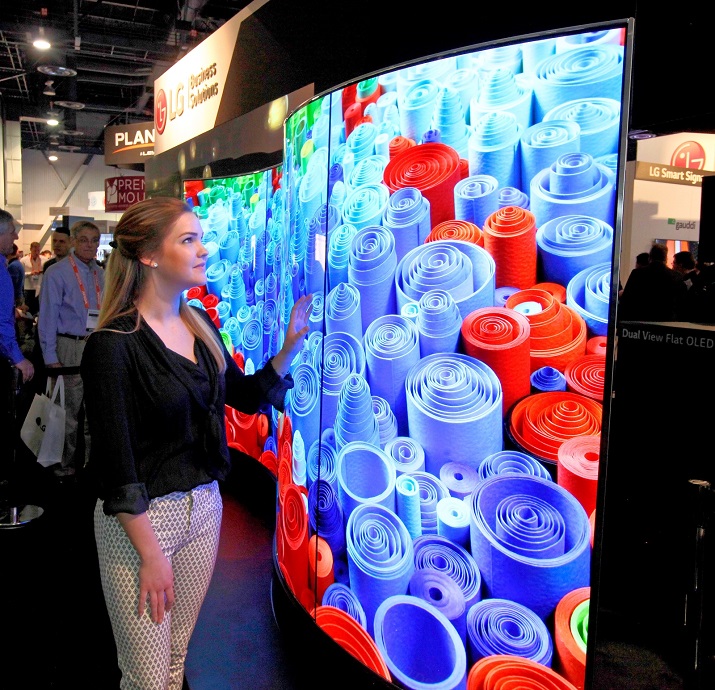 LG's dual-view curved 65-inch OLED display for digital signage allows for businesses to capture customers' attention with its 4K Ultra HD resolution. Source: LG With the dual-view flat OLED display, each of the screen's pixels can be turned on and turned off in order to deliver improved contrast ratios and life-like color for retail establishments and businesses to offer a two-sided media experience in full HD (1920x1080) resolution. The 55-inch display can be wall mounted, suspended from a ceiling or stand on the floor allowing retailers to use whatever space they have, LG says.
LG's dual-view curved tiling OLED uses tiles to form customizable displays that link two, three or four tiles together for a 65-inch, 4K Ultra-HD (3840 x 2160) resolution with more than 8 million pixels. The display features a high performance system-on-chip and a large internal memory capacity to enable playback without the need for PCs or media players, LG say.
To contact the author of this article, email engineering360editors@ihs.com