General Electric's venture capital arm has invested in Germany-based Sonnen Group, a maker of residential lithium-ion storage batteries.
Sonnen develops and produces smart storage systems, called sonnenBatterie, that is a self-produced renewable energy platform that allows for users to save energy in the unit during off-peak hours in order for use during peak energy times. This saves users money on their electric bill while also taking pressure off the electricity grid. Sonnen has currently installed storage units in more than 10,000 households worldwide, the company said.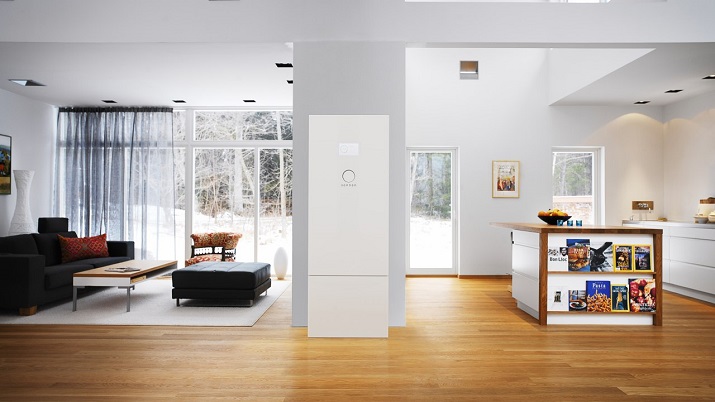 The sonnenBatterie works with an existing or new solar system to save power during off-peak hours for use during peak times to save on household electric bills. Source: Sonnen According to market research firm IHS, Sonnen was the largest provider of residential energy storage systems in Germany in 2015 and is rapidly expanding its scope to the U.K., the U.S. and Australia-- areas where behind-the-meter storage systems are growing quickly in popularity.
GE has undertaken a massive change in its strategy to focus more on renewable and energy conservation initiatives and away from power-hungry products. Just this year, GE made the switch to no longer manufacture compact fluorescent lamp (CFL) lightbulbs and instead transition to more efficient and long-lasting light emitting diode (LED) bulbs. The company is also exploring new ways of generating power, delivering energy and processing water. Terms of the investment in Sonnen from GE Ventures were not disclosed.
Energy storage systems from a variety of providers is on the rise globally with stand-alone providers such as Sonnen and Redflow developing their own systems and automotive OEMs having already cut their teeth with lithium-ion batteries for electric vehicles rolling out their own systems. So far, Nissan, Tesla and Daimler have announced their home energy storage products and rumors indicate Volkswagen may be looking into adding its own version as well.
To contact the author of this article, email engineering360editors@ihs.com