Add BMW to the growing list of automotive OEMs that are offering up a battery energy- storage system after the company announced its plans to integrate its BMW i3 vehicle battery into a high-voltage stationary home platform.
BMW says the system can be integrated into charging stations and solar panels in order for customers to offset peak energy costs as well as have available backup energy supply during power outages. The system uses BMW high-voltage vehicle batteries and can be expanded to use second-life batteries as they become available on the market, extending the life of the battery beyond in-vehicle use. BMW says because the electric draw is much less at home when compared to automotive usage, the repurposed battery will provide many additional years of service while at the same time enable a sustainable way to provide energy to the home.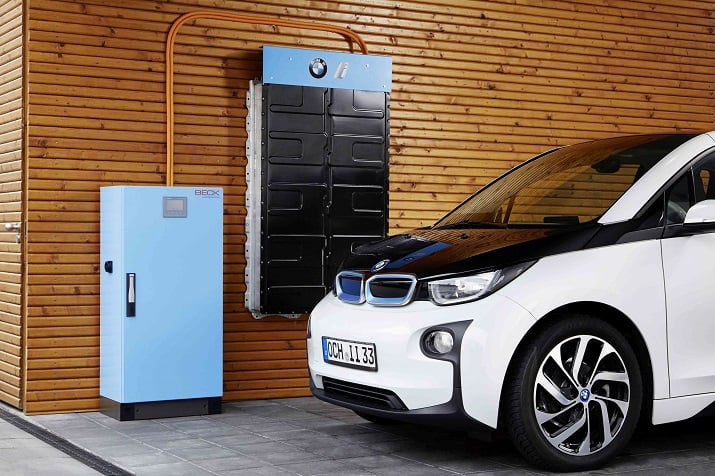 BMW's home-energy storage system can use new lithium-ion batteries or use repurposed car batteries as part of a second-life initiative. Source: BMW BMW says its energy storage is the first system using repurposed automotive batteries integrated by Beck Automation, based in Wuerzburg, Germany. However BMW says the system can be powered by new batteries as well.
A home-energy storage system stores energy produced from solar panels during the day when energy prices are considered off-peak, and then home owners can power their devices, lighting and appliances at night when peak hours and high prices cause energy bills to soar. BMW says in a typical daily household in the U.S., its energy-storage system could power a variety of appliances and entertainment devices for up to 24 hours.
BMW says the storage system measures the available energy supply and demand, and makes the necessary calculations to determine the optimal time to charge or discharge the system. With a voltage converter integrated into the system, the storage system manages the energy flow between renewable energy sources, the house interface and the lithium-ion battery.
The size of the unit allows for placement in a basement or garage, where the stored energy can either be used for electrically operated devices in the home or for charging the battery of an electric vehicle.
Automotive OEMs are getting into the energy-storage business in droves after cutting their teeth in the development of lithium-ion batteries for electric vehicles. Tesla, Nissan, Daimler and others have already introduced energy-storage systems for the home market, as well as a number of non-automotive vendors with their own solutions.
To contact the author of this article, email engineering360editors@ihs.com