The U.S. Navy has been working on next-generation technology for its diving community.
Dennis Gallagher, Underwater Systems Development Project Engineer at the Naval Surface Warfare Center Panama City Division (NSWC PCD), along with his team have created The Divers Augmented Vision Display (DAVD)—a high-resolution, transparent head-up display (HUD) that's embedded inside a diving helmet.
This futuristic system affords divers a real-time visual display of everything from sector sonar (real-time topside view of the diver's location and dive site), text messages, diagrams and photographs to even augmented reality videos. In turn, that real-time data allows divers to be more effective and safe while carrying out their missions by providing extended situational awareness and increased accuracy when navigating to a target, such as a ship or a downed aircraft.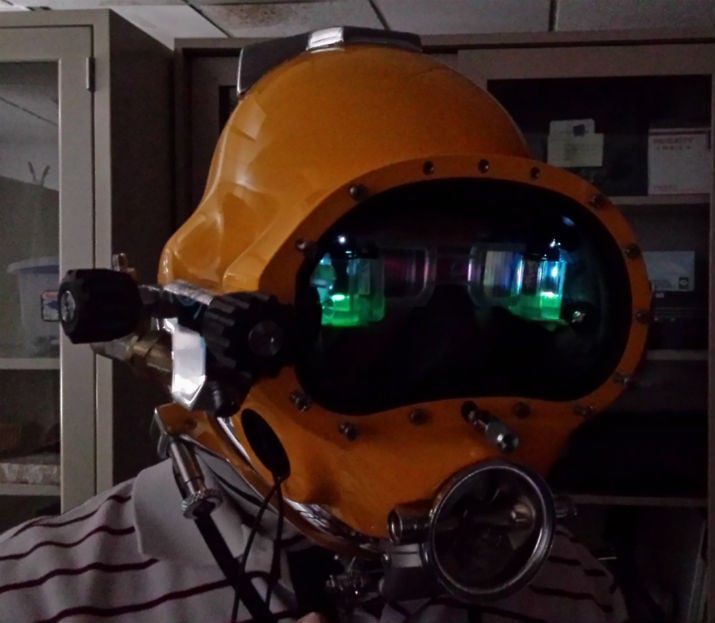 Naval Surface Warfare Center Panama City Division (NSWC PCD) lead engineer William Hughes III demonstrates the Divers Augmented Vision Display. (Image Credit: U.S. Navy/ Richard Manley)
Now, instead of relying solely on pre-dive briefings to determine what they are looking for or where specific items will appear and where they may be located, Navy divers will have the information right before their eyes with a look and feel comparable to a point-of-view video game display.
Divers can choose to turn the HUD on or off and choose the location of the data projected onto the display.
"By building this HUD directly inside the dive helmet instead of attaching a display on the outside, it can provide a capability similar to something from an 'Ironman' movie," said Gallagher. "You have everything you visually need right there within the helmet."
The DAVD HUD system can be used for a variety of diving missions, including ship husbandry, underwater construction and salvage operations. The Navy even suggests that non-Navy individuals in first-responder situations or even the commercial diving community could use the system.
The system would integrate enhanced sensors that the Navy has been working on, which would allow divers to "see" in high resolution, even when water visibility is near zero.
"We constantly engage with the operators; if there is a vision they have, we can make it happen," said Gallagher. "By having this type of positive on-the-spot feedback, you know you're going down the right road."
The team has demonstrated the system with the help of 20 divers. Now it is working on the next steps to design components that will be included in both helmet systems and full facemasks.
Gallagher and his team have collaborated with, and demonstrated the system to, more than 20 divers from various commands that share his vision of this futuristic capability for Navy divers.
Later this year, divers will conduct in-water simulation testing.