Laird has developed a spindle screw pump that delivers consistent and reliable performance in liquid cooling systems. Compared to centrifugal pumps, Laird's spindle screw technology can pump fluids of higher viscosity without losing flow rate, and pressure changes have little effect on pump performance. This is vital in high G-force applications, such as a rotating gantry system used in a CT scanner, as the pump is able to maintain constant flow and pressure while under high G-force stress.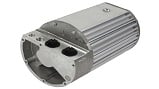 Spindle screw pump. Source: Laird

Laird's three-screw pump comprises a single rotor element that is powered, while two others are idle. Spindle screw pumps move fluid axially without turbulence, eliminating foaming that would otherwise occur in viscous fluids. The idle rotors are rotated by liquid pressure, essentially generating a fluid bearing, or hydrodynamic film, that provides radial support similar to journal bearings.

The self-priming spindle screw pumps allow an independent flexible positioning within the liquid cooling system. Respective to the cost of ownership, the value of a highly reliable spindle screw pump is through long lifetime operation that can span several years with minimal to no maintenance. This minimizes down time by eliminating the need to turn off the end user system for pump replacement. 

Long life operation is built into the spindle screw design due to no metal-to-metal contact between moving components. This minimizes friction wear and abrasions that can cause cavitation. The flexible mechanical assembly allows the use of a smaller strainer with a higher mesh size that extends maintenance intervals and reduces the overall cost of ownership. No metal-to-metal contact also eliminates pulsations, even at high flow rates, making the unit very quiet during operation. The end result is smooth and operation is quiet, even at high revolution rates and pressure.

The pump head and motor are combined into one waterproof housing unit and can push either oil or water coolant. The fluid is pushed uniformly with the rotation of the spindles along the axis and is forced out the other end, which reduces power consumption and increases efficiency. In addition, pressure changes have little effect on spindle screw pumps, making them ideal for a range of applications.