According to the U.S. Centers for Disease Control and Prevention, approximately 1.8 million Americans over the age of 50 are affected by age-related macular degeneration. By 2020, experts predict that number will reach three million. Age-related macular degeneration is the leading cause of permanent impairment of reading and fine or close-up vision in people over 65.
With this in mind, researchers at the University of California, Davis Health System, equipped a pair of eyeglasses with a miniature camera that used optical character-recognition technology to assist those who are considered legally blind in reading e-mails, newspapers, articles, menus and pages in a book.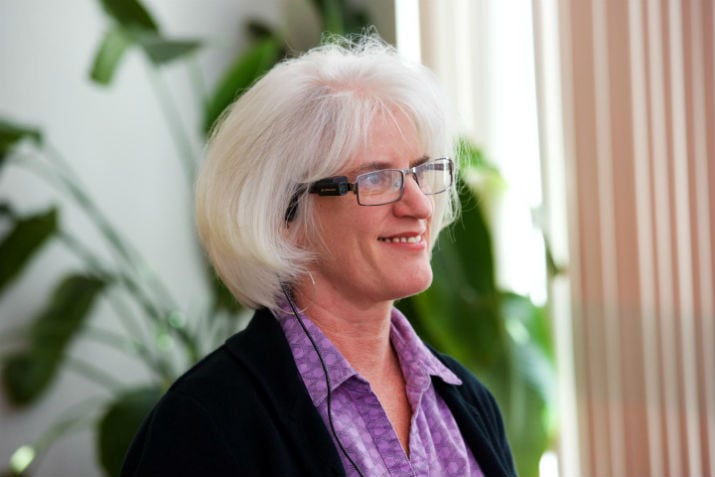 A miniature camera using optical character-recognition technology is mounted onto the eyeglasses of people considered legally blind. (Image Credit: UC Regents)
Using the device, the study's participants were able to perform activities of daily living much more efficiently than they had previously. The device works by recognizing text and reading it to the user via an earpiece that transmits sound. It can also be programmed to recognize faces and commercial products.
"Age-related macular degeneration is one of the most common causes of blindness in the elderly, and it has no cure in its advanced stages," said Mark J. Mannis, Professor and Chair of the UC Davis Department of Ophthalmology & Vision Science. "This device offers hope to patients who are beyond medical or surgical therapy for the condition."
The researchers' study included 12 participants, with an average age of 62, who have low vision (six men and six women) and were also patients at the UC Davis Eye Center at UC Davis Health System in California. The participants' best corrected vision was 20/200 or worse in their better eye. All were legally blind.
The team used a 10-item test on the patients. Initially none of the participants were able to perform about 50% of the tasks, such as reading a message on an electronic device such as a smartphone or tablet, a newspaper article, menu, letter or page from a book. Most of the participants could recognize paper money values as well as recolonize and distinguish between cereal boxes.
After normal testing was conducted, the researchers introduced the portable artificial vision device, which functions either by pointing at an item, tapping on it, or pressing a trigger button. The device is attached to a small pack containing the device's battery and computer and can be carried or placed in a pocket.
After using the device for one week, all of the participants were able to perform 90% of the tasks and said they would consider using it in their daily lives.
"Patients with low vision are often dependent on hand-held or electronic magnifiers, which may be somewhat cumbersome to use," said Elad Moisseiev, co-author and UC Davis vitreoretinal surgery fellow.
The researchers believe the device has the potential to increase independence and quality of life in those who suffer from this condition.