STMicroelectronics (ST) unveiled a pair of six-axis micro-electro-mechanical system-based inertial measurement modules offering improved optical image stabilization (OIS) and lower power consumption than the company's existing inertial modules. According to ST, the company's new LSM6DSL and LSM6DSM cut power consumption by as much as 50% over its current LSM6DS3 and LSM6DS3H devices.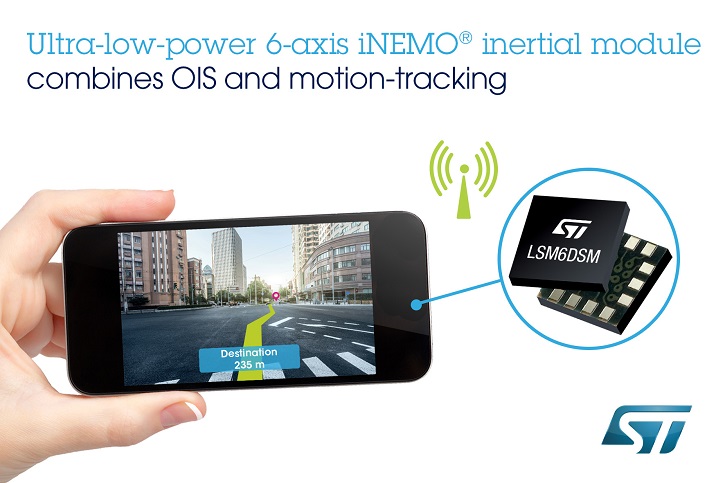 STMicroelectronics's LSM6DSL and LSM6DSM inertial modules support "always-on" motion tracking as well as optical image stabilization. (Source: STMicroelectronics)The new devices' low power consumption enables much longer "always-on" motion sensing for wearables and remote controls, smartphones, game consoles, drones and virtual reality. Applications for the modules include Internet of Things (IoT) and connected devices, motion tracking and gesture detection, and indoor navigation. Their motion-sensing capabilities also support intelligent power-saving schemes in handheld devices.
The LSM6DSL and LSM6DSM share many features and specifications. Both integrate a three-axis accelerometer (with a full-scale acceleration range of ±2/±4/±8/±16 g) and a three-axis gyroscope (with an angular rate range of ±125/±245/±500/±1000/±2000 degrees per second). They each consume 0.4 mA when operating in combination (acceleration plus gyro) normal mode and 0.65 mA in combination high-performance mode. And both come in a miniature 14-lead land grid array package measuring 2.5 mm x 3 mm x 0.83 mm.
ST's new LSM6DSM features a dedicated serial peripheral interface port and additional processing for camera OIS. The gyroscope has 40% lower noise and a configurable filter that together boost camera-OIS performance from the current-generation LSM6DS3H. Compared to solutions that use a discrete OIS sensor, ST says the LSM6DSM saves component count and board space and consumes less than 1/6 the power of the alternative designs.
The new inertial modules will be available beginning in the second quarter of 2016. They are pin- and footprint-compatible with the LSM6DS3/H. Prices—in 1,000-piece quantities—are $1.99 each for the LSM6DSL, and $2.50 each for the LSM6DSM with dedicated OIS output.