Sendyne, a developer of precision current and voltage measurement systems, and modeling and simulation tools for battery systems and other applications, has introduced a lightweight, portable current, voltage and temperature-sensing module suited for precise laboratory measurements. The individually calibrated Sendyne Signature Series modules precisely measure current over a wide dynamic range with an accuracy of 0.05%.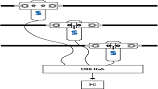 Sendyne Signature Series modules. (Source: Sendyne)Galvanically isolated, the module incorporates a 100 µOhm shunt that allows measurement of currents up to ± 100 A continuous (± 500 A peak). Alternate shunts are available for those who wish to measure smaller or higher currents. Due to Sendyne's proprietary temperature compensation feature, this 0.05% accuracy is maintained from –40 °C to +125 °C. Time between measurements is 5 milliseconds, making the unit practical for real- time experiments. Resolution is 61 µA. A voltage channel can measure voltage with nominal full-scale voltage of ±150 V. An external temperature can be measured with ± 1 °C precision.
The module also offers built-in precision Coulomb counting (charge accumulation), with separate counters for charge, discharge and total Coulombs.
For laboratories utilizing National Instruments's LabView or other software, Sendyne provides a software library that can be freely accessed from GitHub. This enables multiple units to measure various currents simultaneously. In addition, Sendyne offers free, PC-based testing software, downloadable from the company's website.
The standard module communicates to a host over a simple serial protocol; a serial-to-USB cable enables interface to a PC. Other protocols are available.
The modules are priced at $499 in single-unit quantities.