Celera Motion introduced the Veratus precision optical encoder series, designed for ease of installation and robust performance in a wide range of advanced industrial, medical, microelectronics, and scientific applications.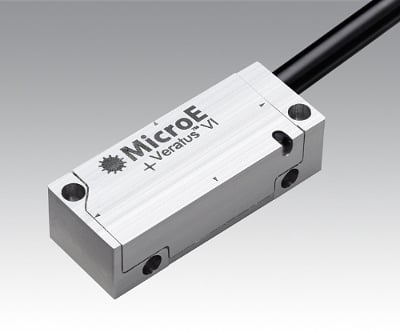 Celera Motion's Veratus optical encoder series senses linear and rotary motion, working with metal tape and glass scales. Image source: Celera MotionCelera considers Veratus — with a 35 mm x 13.5 mm x 10 mm (1.38 in x 0.53 in x 0.39 in) sensor body — to be the smallest encoder in its class. Veratus is capable of resolutions as fine as 20 nanometers. All interpolation, automatic gain control, and signal processing is performed in the sensor head, so no additional special adapters are required.
Veratus is built using Celera's VeraPath optical technology, which — according to the company — provides reliability, signal stability, and immunity to dirt. VeraPath technology reportedly filters out signal disturbances caused by scratches, debris or contamination and effectively eliminates accuracy errors resulting from flatness variations typical with metal scales. The results enable users to achieve high levels of accuracy with both metal tape and glass scales and make Veratus a robust solution for measuring long- and short-travel linear as well as rotary motion.
Celera says Veratus' automatic calibration feature makes it easy for OEMs to get their systems up and running quickly without complicated set-up procedures, tools, or additional electronic components.
Applications that could benefit from Veratus' compact size, contamination resistance, ease of set-up, as well as its availability with both digital and industry-standard 1 Vpp analog outputs include precision linear and rotary positioning stages, coordinate measuring machines, optical scanning and inspection, medical and industrial robotics, laboratory and pharmacy automation, printed circuit board assembly, and electronics packaging.