Griffin Motion
has announced a high-precision, 360° continuous travel rotary-motion platform. The RTS-DD Series exhibits angular accuracy of 30 arcsec, repeatability of 3 arcsec and resolution of 0.324 arcsec, in addition to angular velocity of 480 deg/s, axial and radial run-out of 5 µm, and wobble of 10 arcsec. The rotary stages are suited for use in laboratory, factory automation and semiconductor processing applications.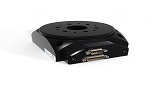 Griffin Motion RTS-DD rotary motion platform. Source: Griffin Motion
The rotary stages feature a compact, low-profile design that helps minimize abbe errors when used in conjunction with another motion axis, and a brushless direct-drive servo motor that eliminates backlash and improves reliability by eliminating sliding friction throughout the stage. The series also features a high-resolution optical encoder with a precision index mark for homing, and a 30 mm through-bore to enable the convenient routing of vacuum or high-voltage lines for a wide range of wafer chucks.

The compact and low-profile RTS-DD Series precision rotary-motion platforms measure 133 mm (5.24 in.) long x 110 mm (4.33 in.) wide x 55 mm (2.17 in.) high. Standard lead-time for the series is four weeks, but expedited lead-times can be accommodated upon request.