Multimedia
Raspberry Pi 3B+ and the new Pi 3A+ functional comparison
07 February 2019
Sponsored content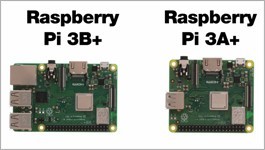 The B+ model is featured on the left of the image, while the new A+ is on the right. Source: Digi-Key ElectronicsIn this short video, you will learn about the major differences between the Raspberry Pi 3B+ and the new Raspberry Pi 3A+. Differences include physical size, the number of ports, Ethernet and memory size. Similarities include the CPU, 40-pin headers, CSI camera port, 4-pole stereo and the display port.
The Raspberry Pi 3 Model A+ is a more compact and reduced-price version of the 3 Model B+. Of course, with the smaller footprint comes a few compromises.
The new A+ version is missing a few items that the B+ has.
Half the memory – 512 mB instead of 1 GB
One USB as opposed to four
No ethernet ports
Don't worry though, the new Pi 3 Model A+ still includes these key features that you've grown to know and love.
Same 5 V, 2.5 A micro USB power input
Same Broadcom BCM2837B0, Cortex-A53 (ARMv8) 64-bit SoC @ 1.4GHz CPU
Extended 40-pin GPIO header
CSI camera port
HDMI
802.11.b/g/n/ac WLAN
Bluetooth 4.2/BLE
DSI display port
4-pole stereo output
According to the Pi Foundation, this will be the final Pi of its kind. So, if you have a project needing a smaller footprint Pi and can feasibly accept the differences, this is the perfect solution for you. Happy Making!
Find Free Electronics Datasheets