As technologies race forward at breakneck speeds, it's more than possible that perfectly good solutions go by the wayside as market leaders sprint to a common solution that they think the market wants or needs. During the rapid evolution in lighting, for example, assumptions are that each technology introduced yielded a better product. Given the pressure to produce rapidly, adopt quickly, market hard and keep the crazy pace going for years, it's more than possible that we've missed a step along the way.
Looking at the tried and true incandescent bulb, for example, commercially developed by Thomas Edison and still in use worldwide, the design has changed little over a century. The bulbs work by heating a tungsten wire to between 2,700 to 3,000 degrees Celsius where it emits a warm and broad light spectrum that most of us have grown up on, while appreciating both its warmth and its color. The fact that they didn't last that long, and they wasted 95 - 97 percent of the energy used to light them was offset by their low price tag. The energy waste is on top of only providing light at 3-5 percent, while today's LEDs in comparison account for approximately 85 percent heat and 15 percent light, was a solid reason for the rapid development and adoption of LEDs.
There are, however, researchers that are saying, "Not so fast," as they harness new materials such as Graphene and carbon nanotubes, combined with new techniques, and apply them to old technology. One group of researchers, for example, claims that they can massively increase the efficiency of an incandescent—boosting the light portion of the equation of an Edison bulb to a whopping 40 percent.
The technology
A team of researchers at the Massachusetts Institute of Technology (MIT) led by physicists Ognjen Ilic, Marin Soljacic, and John Joannpoulos developed a photonic crystal-based solution whereby the crystal acts as a filter and a mirror so that visible light wavelengths pass through the filter while infrared photons are reflected. The crystal is made from a stack of thin layers that re-deposited on the substrate.
In its approach, the team used a conventional heated tungsten metal filament. While the filament is tungsten, a thick tungsten ribbon, folded as if it were a tungsten sheet, replaces the tungsten wire used for a century. Electrons heat the metal, as in the past, yet the tungsten sheet has a large surface area so that the metal absorbs infrared photons that are reflected by the photonic crystals.
Instead of waste heat dissipating as infrared radiation, the capture of this radiation allows for reflecting it back to the filament to be re-absorbed and re-emitted as visible light. It's the energy recycling that accounts for efficiency gains that are now 6.6 percent, 3 times that of conventional light bulbs. In the future, the team estimates that 40 percent is doable.
This process makes a dramatic difference in efficiency, as the system converts light into electricity. Incandescent light efficiency is between 2 and 3 percent; fluorescents, including CFLs, fall between 7 and 13 percent; and LEDs between 5 and 13 percent. It doesn't take much to see that, if out of the box the efficiency of this method is already 6.6 percent and researchers believe that efficiencies as high as 40 percent are possible, this is a game changer.
What does it all mean?
This research drags up many possibilities and questions—an important one of which is: were we a bit hasty in dumping the Edison bulb? Even if there was an element of haste, what can be done now given that they are banned in many countries?
When asked if we could actually go back to producing the old bulbs, naturally adding the new advances, Mike Hornung, IHS Technology Lighting and LED analyst indicated that, although that could happen, since they're already banned for inefficiency, it would be unlikely.
"If, all of a sudden, incandescents were to make a comeback," said Hornung, "they would have to compete with LEDs, having the same or a lower cost of ownership, a combination of lifetime selections, efficiency, as well as upfront costs. Since they are, however, preferred by residential consumers, they could be competitive if they were reasonable in efficiency, lifetime and upfront cost."
Hornung further explained, "For the past 5 years, the industry has assumed that a move to LED is a natural progression to a better technology. But in the process, is it possible that we have missed an opportunity in another technology? While there was, of course, decades of considerable research done on making these technologies as cheap and efficient as possible by the biggest players in the industry, new materials and techniques are consistently being developed, and it is possible that something has been missed in the race to LED lighting. For example, I believe we are only scratching the surface of discovering what Graphene and carbon nanotubes can do."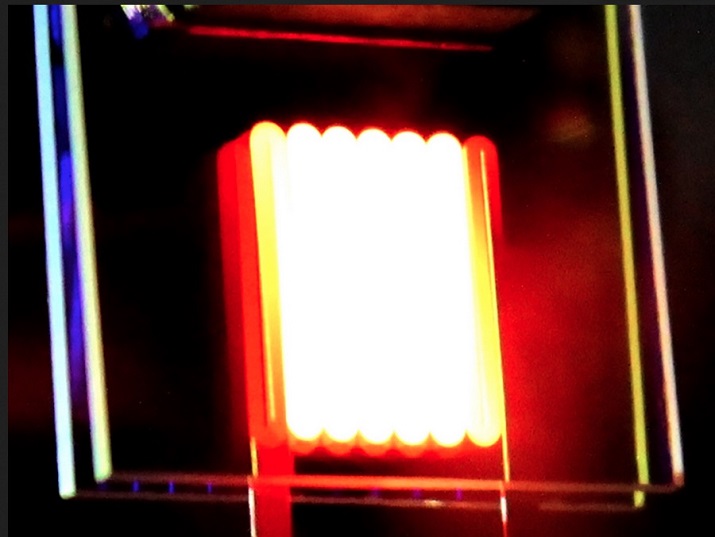 Figure 1. The use of a special filter and mirrors improves the efficiency of incandescent lighting and may account for more efficient solar energy in the future. (Source: MIT Image/Ognjen Ilic)
It would be different if each lighting iteration provided a truly better result, but that has not necessarily been the case. With many CFLs still not adequately dimmable, even they may get pushed out of the market altogether when LED prices continue to decline. Consumers today are still unhappy with the poor quality of lighting. And, ban or no ban, they are also still hoarding old Edison bulbs.
The MIT team sees promise in their technology, whether or not Edison is revived. Ilic and Soljačić are considering improving the electrical conversion efficiency of devices called thermophotovoltaics. These devices use sunlight to heat tungsten so that it emits light at a wavelength that can be efficiently converted to electricity via a solar cell.
For these solutions, and others on the drawing board, the key is to make their technologies inexpensive enough and efficient enough to put impetus behind adoption. What is clear is that photonics could shine new life into old filaments.