Autonomous driving provides a next big step in automotive engineering but with it many safety concerns regarding vehicles independently acting to avoid accidents, pedestrians and other obstacles. Tesla Motors believes it has made a significant breakthrough in addressing the safety risk with self-driving cars with its Summon technology. Summon addresses the automotive safety in the realm of parking and maneuvering in tight quarters. While parking or moving in tight spaces, blind spots become even more troublesome. Areas in front, to the side and behind the car become a problem as pedestrians, pets, clutter or other objects are in the immediate vicinity. Tesla points to the National Highway and Traffic Safety Administration's estimate that more than 900 people were killed and another 52,000 injured when a vehicle was backing up.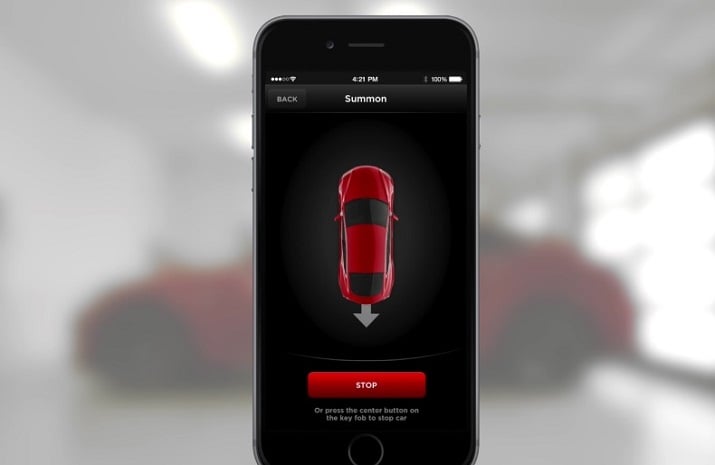 The Summon app on a smartphone allows drivers to plot when they want their car to move or to help it park or stop the car in case of danger. (Source: Tesla)
Summon allows for remote retrieval of a Tesla electric vehicle (EV) from a parking space and provides a direct line of sight to the danger zones around it, the company says. Ultrasonic sensors on top of a Tesla vehicle guard against any unseen or moving hazards and stop the car. Using an app on a smartphone, drivers can manually stop the car as well if they believe something is amiss.
"While these additional layers of security will not completely eliminate accidents when using semi-autonomous features like Summon, when used correctly, they can reduce their occurrence relative to conventional driving," Tesla says in its latest blog post.
Summon also improves parking a vehicle by allowing it to maneuver in narrow spaces that might not have been easy to get to via driver-controlled parking or may have been off limits because of the difficulty in opening or exiting a traditional door. Tesla says in this case, Summon makes it easier to load children, passengers or cargo.
Tesla says Summon lays the groundwork for future autonomous driving features in vehicles because it focuses on safety first. Whereas the Tesla Autopilot feature is used for highways, Summon is more poised for tight spaces or the garage.
To contact the author of this article, email [email protected]