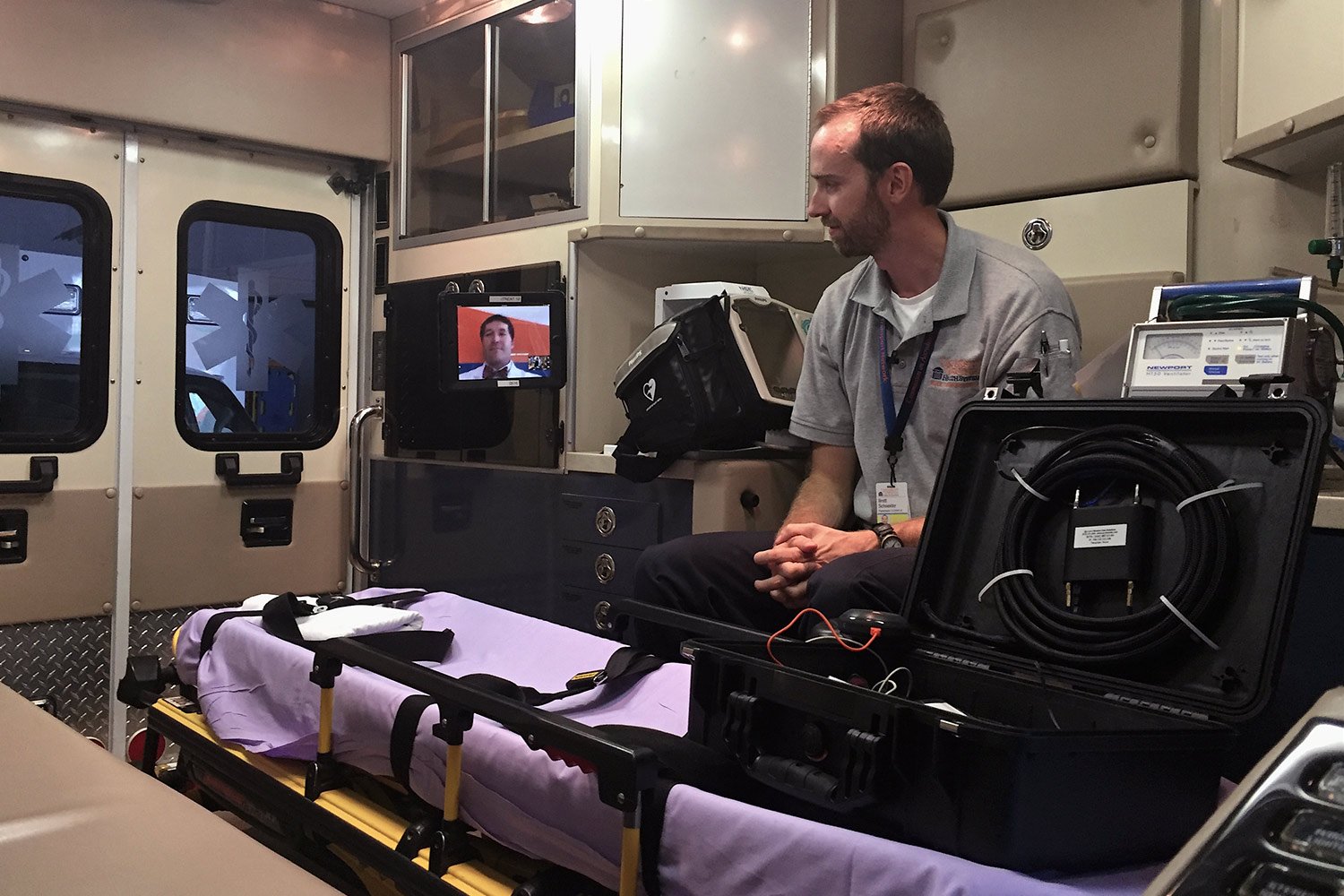 A tablet mounted inside the ambulance virtually brings a doctor to the patient while en route. Source: University of Virginia Health System Physicians could soon be diagnosing and directing treatment for strokes or other illnesses well before the patient arrives at the hospital emergency room.
The University of Virginia Health System has successfully tested a new form of telemedicine it calls iTREAT, for Improving Treatment with Rapid Evaluation of Acute Stroke via Mobile Telemedicine. It is a low-cost, tablet-based system that allows physicians to be in the ambulance—virtually—with patients as they are being transported.
Clinical testing of the mobile videoconferencing concept produced diagnoses highly correlating with a bedside assessment—a finding that could have important implications for the early treatment of stroke and for preventing the disabilities it causes.
The iTREAT kit contains a tablet suction-mounted to the wall of an ambulance, a portable modem and antenna, which provide for an encrypted form of video consultation between a neurologist, the stroke patient and an emergency medical services (EMS) provider.
To test the concept and equipment, the UVA Health System partnered with rural ambulance agencies to allow enough time for the stroke assessment and tested the procedure in simulated stroke scenarios.
The study found that more than 90% of the test runs conducted locally had sufficient quality and audiovisual connectivity to perform the consultation. Researchers determined that stroke-testing results were 98% correlated with assessments that would have been done at the bedside. In other words, iTREAT was just as accurate as a bedside assessment by a neurologist. This would allow for better transport decisions by EMS personnel and potentially faster treatment of the patient once at the hospital.
As explained in the video below, the goal of the study was to advance the assessment of acute stroke to the pre-hospital setting—the ambulance transporting the patient to the hospital.
"Acute stroke is a very time-dependent illness," says Dr. Andrew Southerland, head of the UVA Health System team that conducted the study. "Specifically, in acute ischemic stroke, if you can remove the vascular obstruction and re-vascularize the injured part of the brain in a timely way, you can potentially prevent disability and death."
Many stroke patients do not arrive at the hospital quickly enough to receive beneficial treatment, so the ability to earlier identify a stroke is crucial for better treating stroke patients, he said.
Dr. Southerland and his team are now conducting a trial enrolling actual stroke patients, with the goal of implementing a national study in a multi-center clinical trial.