In patients that have suffered some sort of debilitating lower-limb injury—whether it be a knee injury, spinal cord damage or a stroke—regaining the ability to walk or strengthen muscles is critical in rehabilitation.
Using advances in robotics and robot-assisted training, researchers from Beihang University in China and Aalborg University in Denmark have developed a lower-limb robot exoskeleton that patients wear in order to greatly improve comfort and ease their rehabilitation.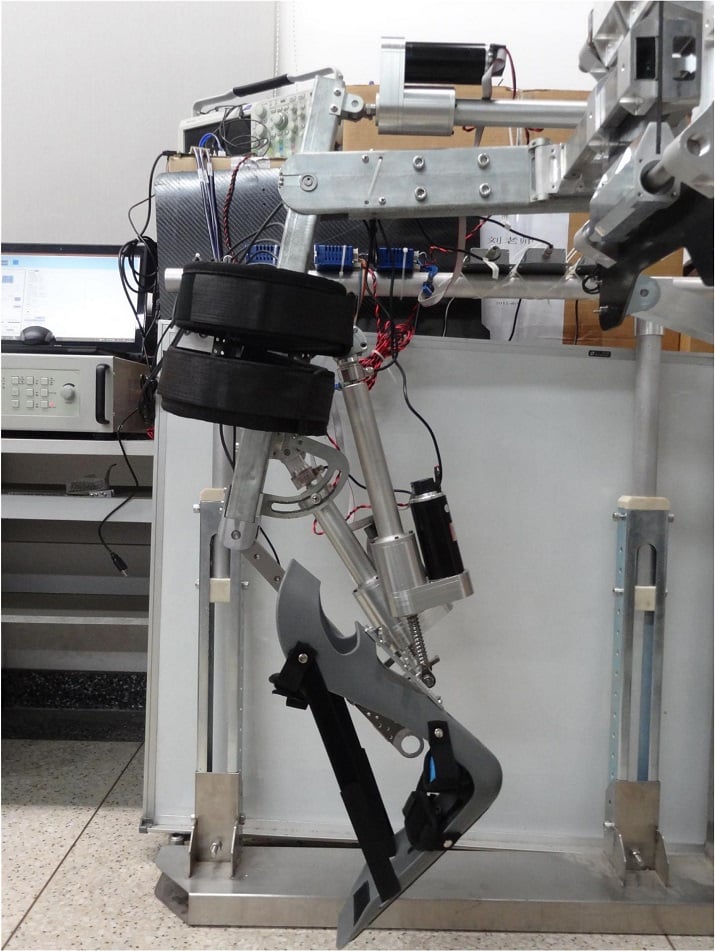 Prototype of a lower-limb exoskeleton that is being developed by Beihang University in China. Source: Beihang University The exoskeleton is intended for stroke patients that need to strengthen their physical fitness, to aid in the rehabilitation of paralyzed patients, or to even assist those that need help performing daily activities, such as after a knee injury.
Researchers focused on the knee joint in the development of the exoskeleton, as it is one of the most complex systems in the human body. They designed a parallel mechanism similar to skeletal muscles as a starting point for a bionic knee joint.
"Our new design features a parallel knee joint to improve the bio-imitability and adaptability of the exoskeleton," says Weihai Chen, a professor at Beihang University's School of Automation Science and Electrical Engineering in Beijing, China.
How They Did It
In their design, researchers developed a hybrid serial-parallel kinematic structure consisting of a 1-degree of freedom (DOF) hip join module, a 2-DOF knee join module in the sagittal plane, and a planar 2-DOF parallel mechanism to mimic the motion of the human knee. The result is an exoskeleton that, when worn, should be synchronized and consistent with a patient's natural movement, researchers say.
The design allows patients to be relieved of discomfort and unnatural movements. The team studied the structure of the human body and built a model based on a biometric design of the lower-limb exoskeleton.
The main role of the exoskeleton will be to help stroke and spinal cord injury patients with rehabilitation, and the team is developing virtual reality games to help make the training process more enjoyable, Chen says.
The next phase in development for the exoskeleton is collaboration with hospitals in order to test the robot with patients who can then provide feedback on the system.