Toshiba America Electronic Components Inc. has launched a high-speed photocoupler that offers protection against extreme operating temperatures. The TLP2768A is capable of sustaining data rates up to 20 Mbps, making it suitable for use in high-speed communication interfaces in factory automation systems, measurement and control equipment and plasma display panels.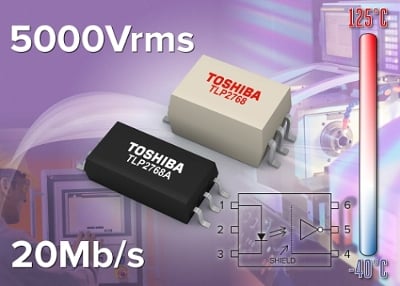 Toshiba TLP2768A photocoupler. (Source: Toshiba)
The TLP2768A features an operating temperature range of -40 to 125°C, allowing it to be used in increasingly compact industrial equipment that contains a greater density of components and therefore has higher internal temperatures. An open-collector output allows for both sink and source drive implementations. The TLP2768A supports both 3.3 and 5.5 V power supplies, making it compatible with a wide range of existing industrial applications as well as ensuring it meets the needs of low-voltage designs.
Toshiba's TLP2768A high-speed photocoupler consists of a high-output GaAlAs light-emitting diode coupled with integrated high gain, high-speed photodetectors. It features an inverter-logic output and operates over an extended temperature range while complying with the reinforced isolation class requirements of international safety standards.
Specifications for the photocoupler include a supply voltage of 2.7 to 5.5 V, a supply current of 4 mA, common-mode transient immunity: ±20 kV/µs (min), and isolation voltage of 5000 Vrms (min).
Housed in Toshiba's ultra-thin S06L package, the TLP2768A offers a maximum height of just 2.3 mm, which reduces thickness reduction of approximately 45 percent. The S06L package is able to maintain creepage and clearance distances up to 8 mm.