This year is slated to be a big one for wireless charging as many attainable goals are expected to happen throughout the course of 2016 propelling the market forward more than ever before, according to research from IHS.
As the wireless power industry gears up for its strategies in 2016 and beyond, here is what IHS believes will be the five wireless charging trends of the year: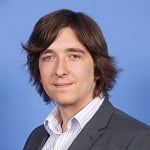 David Green, research manager for power supplies and wireless power at IHS. 1) iPhone 7—IHS says that although Apple's specifications are hard to come by, it would be difficult to ignore the adoption of wireless charging by its competitors. "It is highly likely that the next iPhone will be equipped with this technology, although it won't become clear until days before launch which standard (or even which proprietary technology) they might choose," says David Green, research manager, power supplies and wireless power at IHS.
2) The rise of tri-modal receivers—With the commercial launch of Rezence-standard receivers slated to begin in 2016 for both mobile phones and notebooks, Green says it will be interesting to see what choices smartphone manufacturers make this year. While they could ignore the growing adoption of inductive solutions in favor of Rezence-only solutions, "it is far more likely that mobile phone manufacturers will choose multi-mode receiver solutions, in the pursuit of interoperability and the best possible consumer experience," Green says.
3) Satisfaction among wireless power users to drop—A recent IHS survey had responders saying those that had used wireless charging in the past come out in favor of the technology overwhelmingly saying they would use it again in their next device. However, as the technology gains more consumer adoption, satisfaction with the technology is likely to decline as some negative experiences are recorded, IHS says.
4) One million public wireless charges installed—This year, IHS forecasts the one-millionth wireless charger will be installed into a public infrastructure. While not all of them are still functioning or in use, it is a major milestone for the technology as well as a way that businesses, hotels, restaurants and other commercial establishments can entice consumers with free and convenient power.
5) Uncoupled technology takes a step forward—Uncoupled wireless charging in 2016 will be a year of development. With the Internet of Things (IoT) taking off, it will play to the strengths of uncoupled technology that provides low power at higher distances. "We do not expect mainstream product launches of uncoupled wireless-charging receivers; arguably those will not enter the market until 2017, at the earliest," Green says. "However, in 2016 we expect to see at least one major original equipment manufacturer sign development agreements within the uncoupled space."