Kiss everything you know about drones goodbye! Parrot's new Disco drone eschews the common quadcopter design and instead is a fixed wing aircraft with a rotor on its tail. To launch it you just mount the wings to the body, start up the propeller, toss it in the air and watch as it climbs to cruising altitude. It will then turn automatically in a holding pattern until you take control of it. Each wing has steering flaps which are controlled by motors.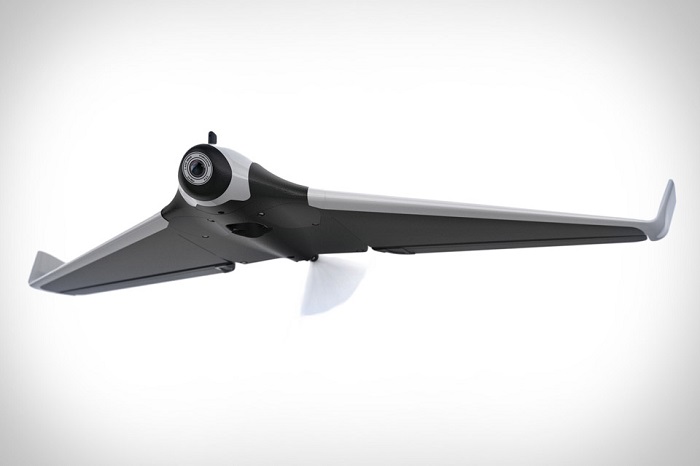 Parrot's Disco can take off, land automatically.
The drone connects via WiFi using the Parrot Skycontroller (a single joystick controls altitude as well as left and right directions) or the company's Waypoints with Flight Plan app. The app allows you to plot out a flight plan which Disco will then automatically follow. Indeed, Parrot's piloting system can be viewed as semi-autonomous "assisted" flying. Takeoff and landing are automatic with the computer controlling the drone (GPS is used to bring Disco home); human pilots can input pitch without stalling the craft and causing it to plummet to earth.
According to Parrot Disco is the first wing-shaped drone you can pilot without going through a learning process. Its autopilot and sensors (accelerometer, gyroscope, magnetometer, barometer, Pitot to determine the drone's speed, GPS) permanently control its flight. There is no landing gear so landing is a soft, controlled crash.
At any time, Disco can go into "Loiter" mode and orbit around a point of interest. The drone has a front mounted FullHD 1080p nose camera capable of live video streaming. Disco uses the 3-axis digital stabilization of Parrot's Bebop drone camera. Disco weighs roughly 1.5 pounds. It has a top speed of about 50 miles per hour, much faster than most of the consumer drones on the market. The fixed-wing design is also said to give better battery life than a quadcopter, with Parrot promising 45 minutes of flight on a single charge.
Parrot's drone is on display at CES 2016. The company has not released pricing information and said that Disco will be available for sale some time in 2016.