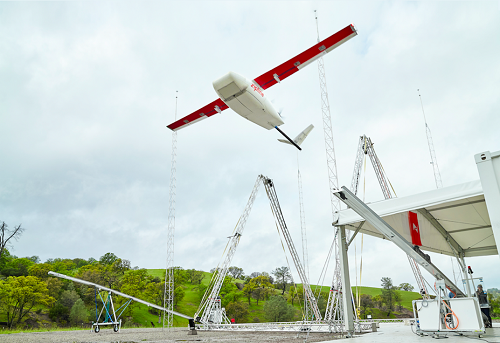 The new drones will fly about 100 miles round trip carrying 3.85 pounds of cargo. Source: ZiplineDrone manufacturer Zipline was last seen last year in Tanzania, where it was developing drone delivery service for emergency on-demand access to critical and life-saving medicines.
Now, the company is building on its initial plans by unveiling what it claims to be the fastest commercial delivery drone on Earth.
The Silicon Valley-based company currently operates a national-scale drone delivery system making thousands of deliveries per year. The new aircraft will be autonomous and can fly farther, faster and with larger cargo than previous drone generations. Zipline says the new drones can fly even at high altitude, heavy wind or rain.
Zipline has completely redesigned its logistic system to improve the autonomous flight, launch and landing capabilities. These help to decrease the time between receipt of an order and launch of a fulfillment flight from 10 minutes to one minute. This will help the company increase the number of daily delivery flights from a distribution center from 50 to 500 and expanding the radius of each distribution center to server populations up to 10 million people.
The new drones are autonomous fixed-wing style aircraft capable of flying at a top speed of about 80 miles per hour with a cruising speed of about 63 miles per hour, which is 13 mph faster than its previous generation aircraft. The drones will also have a round trip range of about 100 miles carrying up to 3.85 pounds of cargo. Zipline says the new drones can fly four times faster than the average quadcopter and can server an area 200 times as large.
Zipline is working with state governments across the U.S. to launch medical drone delivery as part of the Federal Aviation Administration's (FAA) UAS Integration Pilot Program (UASIPP) – an opportunity for state, local and tribal governments to partner with the private sector to accelerate safe commercial drone innovation in the country.
Part of this plan is to integrate autonomous, beyond visual line of sight flights over populated areas into the FAA's National Airspace System. The FAA is expected to formally approve UASIPP projects in the coming weeks and Zipline says it expects to be part of the process and commence operation by the end of 2018.