A new software tool called RemLife has been developed at the Australian Nuclear Science and Technology Organization (ANSTO) to help maintain plant components and improve the efficiency of operations at power stations. Since materials that are subjected to extreme pressure and temperatures undergo changes that must be monitored, the researchers developed RemLife to calculate the damage that power station components sustain during operation cycles and then use the information to predict how long the plant can safely run.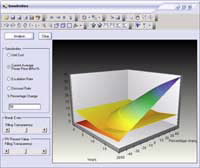 RemLife Software. (Source: ANSTO)

"It allows a quick and accurate assessment of component damage based on operating conditions without actually testing it in real life. Using RemLife, power stations are able to optimize operations, reduce downtime and reduce carbon emissions," says Dr. Warwick Payten, a materials engineer who was a key contributor to the development of the software.
The software was developed in response to changes in demand and competition from alternative energy suppliers. At this time, Peyton says, almost all large thermal and combined cycle power stations in Australia are using RemLife to manage their assets.
How it works
RemLife employs a variety of techniques to perform quick and accurate analyses of the effects of high temperature and high pressure on industrial plant components. It can also be used to compare the economic benefits of specific cycling regimes. Engineers can determine which components are at risk due to their operational history and plan future operating regimes.
The software lets power plant managers screen many components and detect the risky ones and calculates both base rupture damage as well as cyclic damage due to start-ups and shutdowns. "Rather than spending a week assessing a single component, that assessment can be carried out in minutes," says Payten.
Extending the life of components can save companies billions of dollars and provides accurate energy forecasting. "It bridges the gap between 'back-of the envelope' calculations for base rupture and fully detailed finite-element analysis for creep-rupture and combined creep-fatigue analysis," adds Peyton.
Although the proof-of-concept for the software was revealed in 2005 and the first version was released in March 2006, the code was re-written in 2012 and now ALS Global, an Australian-owned multinational company and a global leader in analytical and technical services markets, acquired RemLife and plans to expand it internationally. "The acquisition is an endorsement of the quality of the research and recognizes ANSTO as a knowledge centre for this methodology," says Payten.