Semtech Corporation announced the SX9306, a new addition to its SX9300 family of proximity sensors that minimizes radio-frequency (RF) exposure by selectively reducing RF power in mobile phones and tablets.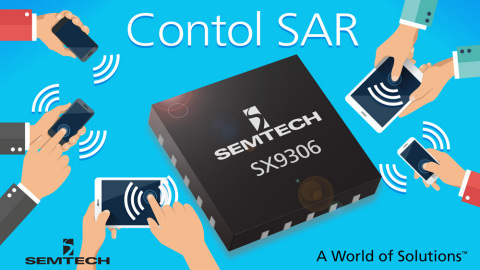 Semtech's SX9306 proximity sensor helps smart-phone and tablet makers minimize RF exposure by detecting when the device is near a human body part, allowing device makers to proactively control RF power levels for SAR reduction.The SX9306 is an ultra-low power, capacitive proximity sensor with an on-chip smart engine for human body detection and advanced specific absorption rate (SAR) control.
SAR is a measure of the amount of RF power that is radiated into the human body when in a close proximity to a mobile device. In the U.S., SAR standards are set by the Federal Communications Commission (FCC) and these limits are often followed by other countries around the world. In Europe, the standard is set by CENELEC. In China the standard is set by TENAA.
The on-chip smart engine can detect the permittivity of different surfaces, allowing it to accurately discriminate between inanimate objects and the human body. Smart-phone manufacturers use this capability to program their devices to reduce RF emission power when a device is near to a human body part. With higher RF-power devices and more extensive device usage, the SX9306 allows these manufacturers to proactively reduce SAR without affecting RF strength during normal usage.
Available in a 3 mm x 3 mm thin QFN package or a 1.63 mm x 1.23 mm WLCSP package, the SX9306 has four high-resolution capacitive sensor inputs with sensing resolution of 0.08 femto-farad (fF). Each sensor also features a capacitance-offset compensation of up to 30 picofarads (pF). With its integrated RF shield, the device provides noise immunity and eliminates false triggers that commonly occur in these applications. The chip operates on a 2.7 – 5.5 V supply voltage and within a -40°C to +85°C temperature range.
Pricing and Availability
The SX9306 is available immediately in production quantities and is priced at $0.81 each for WLCSP (order code: SX9306ICSTRT) and $0.72 each for QFN (order code: SX9306IULTRT) in 1,000-piece lots.